Veterans plant peace in a sea of crosses
Veterans spread awareness of the human cost of war.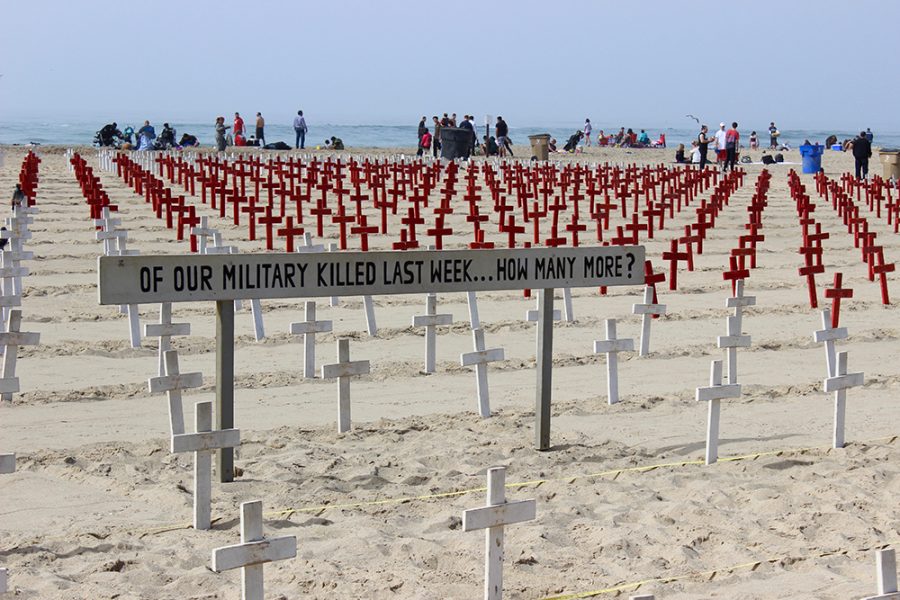 Justin Yun, Writer
March 1, 2016
A sea of red and white crosses organized in neat, yet seemingly endless rows occupies the right section of the beach next to the world famous Santa Monica Pier. The curious sight demands the attention of many beach-goers, but the sentiment generated by the temporary cemetery is all too familiar for those who fought in war.
Informing the Public
Veterans and peace activists from the pro-peace organization Veterans for Peace set up a memorial called Arlington West every Sunday in memory of fallen soldiers in the wars in Iraq and Afghanistan. Members of the organization inform the public about the financial and human costs of war and the necessity for citizens to demand peaceful alternatives instead of engaging in long and costly wars.
"Ain't no democracy ever come out of the barrel of a gun," said Jerry Van, a pro-peace activist and a former Vietnam War veteran when asked about American efforts to build democracy in Afghanistan and Iraq. Known as the "Venice Fruit Man," Van sold fruit on the Venice Boardwalk in the 1970s and is responsible for informing the public about "Peace Trees," the small potted Cedar trees dispersed in front of the memorial.
Working for a Better Future
In a recent interview, Lawrence Wilkerson, former Chief of Staff for Secretary of State Colin Powell asserted, "U.S. presence in Afghanistan will not go away for another half-century." With reports claiming the U.S. invasion and occupation of Iraq was responsible for the death of roughly one million Iraqis and 6,800 U.S. soldiers, Van's message is subtle yet fundamentally biblical. You reap what you sow, and the destruction planted by a seemingly unending war in Afghanistan will produce a harvest no country wants.
Michael Lindley, a veteran of Vietnam and a peace-activist with the organization's Los Angeles chapter discussed the need for young people to be independent thinkers and work to create a better and more peaceful future. Asked about fallen soldiers such as Pat Tillman and Tomas Young, Lindley discerns the lives of the aforementioned men and their relationship with the military.
Independant Thinkers
Despite being portrayed as the poster child of the U.S. military's recruiting efforts, Tillman was known for being a cognizant and independent thinker opposed to the Bush administration and the War in Iraq. Iraq war veteran Tomas Young, also a critic of the Iraq War, became prominent for penning a poignant open letter to George W. Bush and Dick Cheney before dying from medical complications incurred from his injuries in war. Young's two and a half ton unarmored truck was ambushed in Baghdad in 2004 when a bullet shattered his knee and spinal column, leaving him paralyzed.
"War…it lives on you, and it is very hard to separate yourself from it," Lindley said. Juxtaposed to the colorful and vibrant roller coasters and Ferris wheel on the pier, the sea of crosses is a solemn reminder of the inherent devastation of war.