New art exhibits burst forth
Art piece in front of library draws attention to new exhibition by CCCA.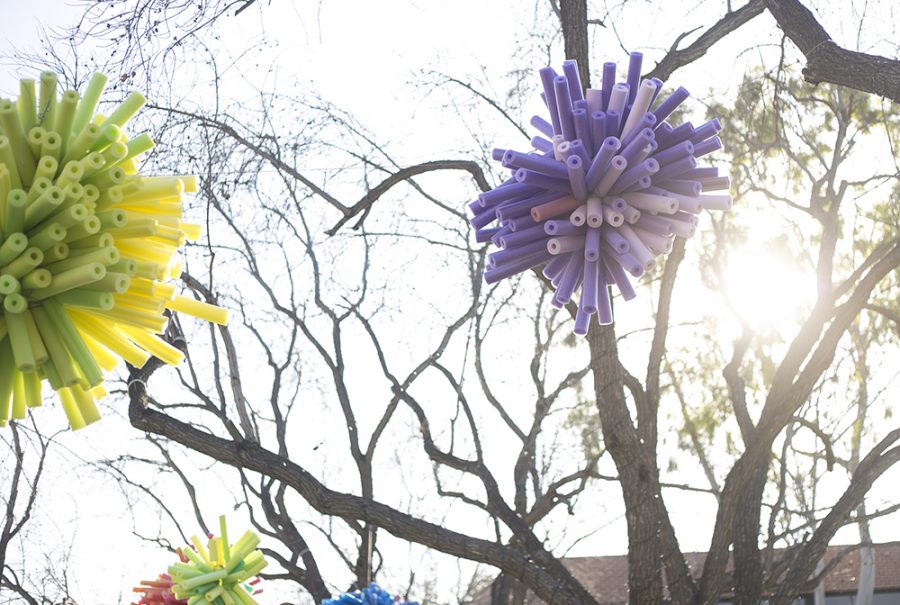 The new "Burst" art piece created by Olga Lah for the Extra-Ordinary Things Exhibition welcomes students and visitors back to campus. The exhibition and colorful art display will be showcased in the Green Art Gallery and in front of the library until March.
BRIGHTENING UP THE LIBRARY
Alexis Yates, freshman biochemistry major, likes how it brightens up the passageway in front of the library.
"It's a nice contrast to the seriousness of the library and it always makes me feel like I'm a little kid when I'm walking by. I really like it. I think it lightens things up, plus they're so bright, it's cool with all the lights at night and all during the day too," Yates said.
A NEW PERSPECTIVE
The gallery curator, Jeff Rau, gathered work from five artists including Olga Lah, Lynn Aldrich, Mclean Fahnestock, Kiel Johnson and Steve Roden. The exhibition intends to support the upcoming art symposium hosted by Center for Christianity, Culture and the Arts on March 5 in Calvary Chapel, encouraging "Openness to Experience: Rethinking Creativity and Aesthetic Intelligence."
The theme of the symposium and exhibition is to find masterpieces in everyday objects. The exhibits are all made of common, mass-produced everyday items and transformed into a spectacular display. Rau curated art pieces from artists he worked with previously at Biola as well as other universities, and knew their style would match well with the theme. All the artists are fairly established in the art business.
Rau hopes students who observe the exhibits will learn to understand their surroundings in a new perspective, taking the time to note the beauty and wonder in the world they pass everyday.
"The inspiration for the show is…to [think] about the object that you encounter or the materials or landscape you inhabit or materials you use on a daily bases, not taking those things for granted," Rau said. "But trying to encourage a posture of openness to thinking about the whole of your experience…things that may not initially seem unique or spectacular and perhaps re-imagined and transformed in a way that can have a deeper and more enriching experience."
IN A TRANSITION
Another exhibition that has been placed in the library focuses on the Biola theme this year, "Abound." Students in the fall paint class created the pieces. Each student was asked to paint two pieces. The first piece was a text piece, where the students were told to focus on the word "Abound" and its full meaning and implications. For the second piece, they formed that meaning into an image.
Elaina Swanson, junior art major, has two pieces displayed in the library. Her pieces focus on the overflowing aspect of the word "Abound" and she hopes to remind those who observe her pieces of the abundance they have, even if they do not think they have it.
Her second piece, "Adonai," is a sort of self portrait inspired by Psalm 8. Even though we are all in a transition stage, she hopes to help observers recognize the most important aspects of ourselves, as well as the great celestial titles we have been granted as image-bearers of God.
"I was sort of struck with the image that was in Psalm 8 and how man is so lonely and yet is still crowned with honor," Swanson said. "We're in that transition space between childhood and adulthood where we're not really sure where we're going and recognizing the most important aspects of who you are…You have a crown of stars, you inherit the earth, you are an image- bearer of God."
About the Writer
Jana Eller, Office Manager
As a senior intercultural studies major, Jana Eller loves stories, serving people and having lots of adventures. She can never pass up a good boba run and has a slight obsession with cows.

[email protected]



I came into college as an intercultural studies major with a faint interest in writing and journalism. After freelancing my first story, I fell in love and began building my way up through the ranks, holding multiple editorial positions along the way. After working on staff for...