Commons displays artwork about gender themes
Art exhibits visual messages from "Gender, Faith and Culture" week.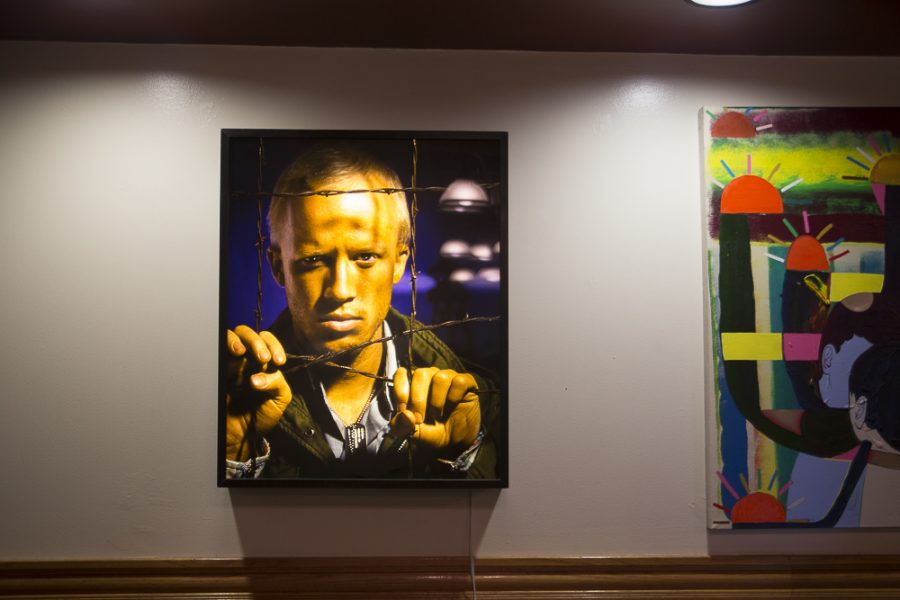 Since Halloween weekend, Common Grounds has donned new art pieces in an attempt to promote conversation through art.
VISUAL REPRESENTATION
The pieces hung to decorate the walls in Common Grounds coffee shop were chosen to provide visual displays of the themes discussed during the Gender, Faith and Culture week in early November. Topics such as gender equality, the Godly compared to societal definitions of masculinity and femininity and the woman's place in the church were discussed.
Christopher Davidson, associate professor of English and one of the organizers of the Gender, Faith and Culture week, was chosen to curate an art show display in Common Grounds to give students a visual representation of the topics discussed. Davidson solicited works from alumni he knew had pieces related to the themes of the week.
One of the pieces, a photograph in a lightbox of a man behind a barbed wire fence by Kevin Scholl is a work designed to look like a man in a prison camp. This piece was part of a collection by the artist visualizing our image of masculinity.
"[The artwork shows] how those images of masculinity that we have, of what makes a man a man, come from pop culture sources such as films, movies, advertisements. So he took on the guys in a series of photographs…where he put on "manliness", said Davidson.
MUTUAL UNDERSTANDING
Another piece takes on the role of a Godly woman in the historical church. In this piece, by Sydney Walters, the background of broken and crumbling pillars imitates a late 15th century renaissance painting of St. Sebastian from the Italian artist Andrea Mantegna. In the original renaissance piece, St. Sebastian is being martyred for his Christian faith. The piece displayed in Common Grounds uses the absence of St. Sebastian to show how women have been limited in service in the Christian church throughout history except in death.
These pieces seek to provide mutual understanding and provoke discussion and conversation among students who regularly visit Common Grounds. Davidson emphasizes the importance of connecting these images with the topics discussed.
"All the images seen through the context of that particular week…at least might be understood somewhat as a response to how gender plays out in our culture, particularly in a culture of faith," Davidson said.
POWERFUL MESSAGES
While pieces are usually rotated through Common Grounds on a regular schedule throughout the semester, these pieces stayed up a couple weeks longer than planned. They will instead be taken down Dec. 3, over a month after they were put up. Davidson hopes people will notice this and how the ideas displayed are ever-present.
The managers at Commons are happy to have art pieces with such powerful messages rotating through the space to help encourage the issues and messages Biola makes relevant to students.
"I think it'd be cool if we can cycle them through the different themes Biola does throughout the year," said Katie Grebbien, junior communication disorders major.
Matyson Harlow, junior communication studies major, likes how Biola has provided a visual aid for the themes presented during the week in public spaces such as Common Grounds. 
"I think it was really cool, almost like extended experience of Gender, Faith and Culture, for it to  take place in here. There's a lot of different takes on potential themes in the art pieces and I really appreciate that," Harlow said.
About the Writer
Jana Eller, Office Manager
As a senior intercultural studies major, Jana Eller loves stories, serving people and having lots of adventures. She can never pass up a good boba run and has a slight obsession with cows.

[email protected]



I came into college as an intercultural studies major with a faint interest in writing and journalism. After freelancing my first story, I fell in love and began building my way up through the ranks, holding multiple editorial positions along the way. After working on staff for...