A healthy twist on junk food
Four L.A. eateries offer healthy alternatives to classic junk food items.
Every college student knows the drill. Friday night rolls around and the thought of making dinner is exhausting in itself. All you want to do is go out with friends to get burgers or pizza. The next morning you wake up and almost always regret your decision to eat that fourth slice. What if you were told there were places that let you eat classic junk food items that are actually good for you? Well there are.
I explored four popular eateries in Los Angeles that offer a healthy option for junk food items like pizza, burgers, Mexican and donuts. The restaurants' menu items claiming to be the healthy version of junk food pleasantly surprised me.
Powerplant Superfood Café

(4/5)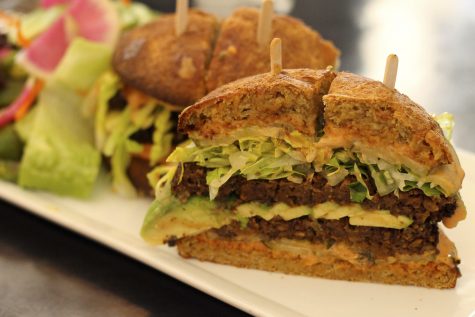 $12 per burger
Craving a burger but not looking forward to that greasy feeling after eating it? Look no further. Powerplant Superfood Café is a gluten-free, organic plant-based cuisine that offers breakfast all day, smoothies, tacos, sandwiches and several other options. One of their most popular items is their version of McDonald's Big Mac  — the "Power Mac Veggie Burger." This creation consists of two house-made veggie patties, their own dill pickles, two pieces of organic cheddar, lettuce, grilled onions and Cornichon dressing — all served on a gluten-free bun. I ordered mine with avocado instead of cheese and requested a side salad with ginger and avocado dressing.
I do not have much experience with veggie burgers but this could have easily been mistaken for beef. It was everything you want in a burger — a well-seasoned patty on a crisp bun. The sweet combination of pickles and dressing that was similar to Thousand Island complemented the Italian flavor in the patty. The overall taste was similar to a sloppy Joe without sauce, which I really liked. I would go back to this restaurant to order this burger again or try a different menu item.
Fonuts (5/5)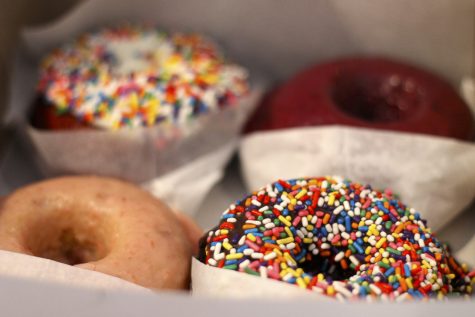 I will be honest, I am a sucker for donuts. However, I am constantly looking for a healthier option of my favorite treat. Needless to say, when I found this donut shop in Los Angeles, I was instantly in love. Fonuts prides itself on making donuts baked or steamed, but never fried. The name Fonuts originated from faux-donut — making a pretty good imitation of real donuts. Most of their donuts are made from almond flour and they offer both gluten-free and vegan options. They have the classic flavors as well as more unique ones like salted caramel, rosemary olive oil and Hawaiian.
The first donut I tried was the strawberry buttermilk, which was extremely moist and had real strawberries baked into it. The pink icing was melted on the donut, but not runny. The next flavor was blueberry earl grey, which had pretty purple icing and was the perfect balance of flavors. It was not too herbal and the blueberries inside were not overbearing. The third flavor was chocolate with chocolate frosting and rainbow sprinkles, which was similar to eating a cupcake in donut-form. It was very rich and tasted exactly like gooey chocolate cake. The final flavor of donut was the red velvet with cream cheese frosting and rainbow sprinkles. This donut had the perfect frosting-to-donut ratio and was rich but not too sweet.
Overall, each of the donuts that I tried was very moist and seemed like a mini Bundt cake. I would definitely recommend this donut shop for someone with a sweet tooth in search of a healthier alternative.
Café Gratitude 4/5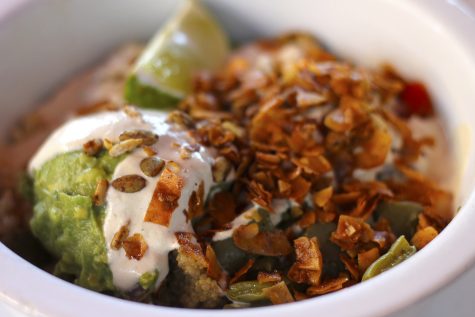 $15 per bowl
Café Gratitude is focused on serving 100 percent organic and plant-based food that supports health and sustainability. Their menu selection includes salads, wraps, pasta and pizza. However, their bowls offer a healthy replacement for cultural food like Mexican, sushi and Indian. The vibe at the café was very hipster and the restaurant had great customer service.
I was in the mood for Mexican — which is no surprise to anyone who knows me — and ordered the Mucho Bowl. This Mexican bowl had black beans, sprouted probiotic brown rice and quinoa, romaine, cashew nacho cheese, guacamole, pico de gallo, salsa verde and spicy pepitas. I ordered mine with bacon-flavored coconut flakes on top, which added to the flavorful dish. Overall, it had a really great flavor and exceeded my expectations.
I also tried some of the Whole Bowl, which is a macrobiotic blend of braised butternut squash, adzuki beans, sea vegetables, seasonal sautéed greens, house-made kimchi, garlic-tahini sauce, teriyaki almonds, sunflower sprouts and sprouted probiotic brown rice & quinoa. I liked the variety of ingredients and the flavor was very natural and no ingredient overpowered the others.
EVO Kitchen

3/5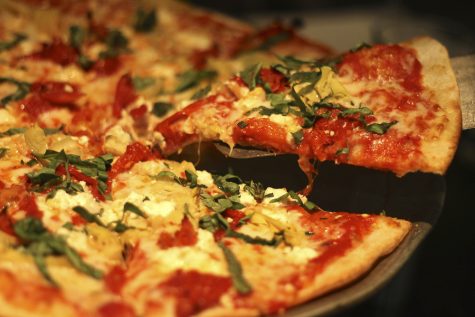 $23 per large pizza
EVO Kitchen is a small family business that supports local and organic farmers and caters to gluten-free and vegan customers. This restaurant is the perfect choice for a night out in L.A. with friends. Their specialty pizzas are served with their house-made organic marinara and organic produce. I ordered the goat, artichoke and sundried tomato pizza that had marinara sauce, goat and mozzarella cheese, artichoke, fresh garlic, sun dried tomato and topped with fresh basil. My favorite part of this pizza was the thin traditional crust that was crispy and not greasy. I also thought the goat cheese completed the unique pizza flavor. I would recommend trying the avocado salad pizza — as it is their most popular menu item.