Double the damage
After their win against Menlo College on Saturday, women's soccer wins 4-2 over the San Diego Christian Hawks.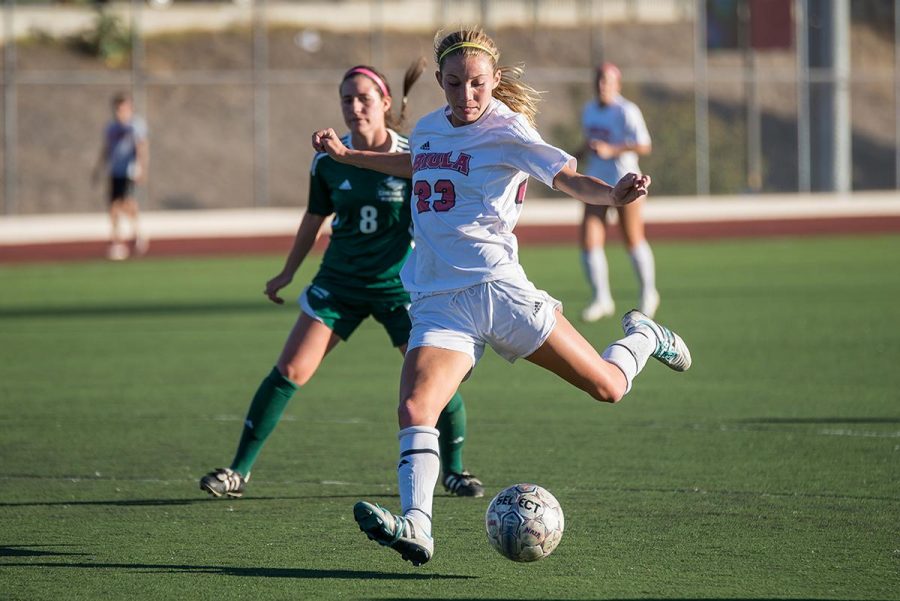 Dale Fredriks, Writer
October 13, 2015
Following a 1-0 win over Menlo College on Saturday, the Biola Eagles women's soccer team kept the momentum going by securing a 4-2 victory over the San Diego Christian Hawks on Tuesday. This victory moves the Eagles to 4-0-2 in Golden State Athletic Conference play, and 10-1-3 overall.
The last time these two teams met, Biola also scored four goals, but were able to shut-out the Hawks. This time, SDCU was able to get on the board, and they drew the first blood, scoring both of their goals in the first half. Senior forward Shayna Peterson-Burman scored both of the goals for the Hawks, off of assists from junior forward Vivian Oray both times as well.
Biola came alive in the second half, scoring all four of their goals within the first 45 minutes. The first one came by way of a through ball from sophomore Ashley Ramirez to junior Taylor Venegas in the 49th minute. Exactly one minute and one second later, Venegas scored again, this time off of a cross from sophomore Brianna Mikalson.
There was a long dry spell where both teams tried to score the go-ahead goal, but Biola eventually won the battle in the 71st minute when Ramirez scored a goal of her own off of a corner kick from junior Kayla White. The nail in the coffin came one minute and two second later, when senior Brittney Sayre scored with the assist going to sophomore Samantha Verduzco.
The stats on this game were very similar for both teams, but Biola was able to do just enough to come away with the win. Both teams had 11 shots, eight of which were on goal for Biola compared to six for the Hawks. Both teams also got four saves, and Biola got four corners compared to SDCU's two.
Biola's next game is against the Hope International University Royals on Oct. 17 at 7 p.m. This is senior night for Biola's five seniors, but there are still three games after this before the post-season begins.