Students seek independence post graduation
A survey of Biola students reveals that the majority do not plan on living at home after college.
Despite financial difficulties and other considerations, the majority of Biola students plan to live on their own after graduation. Based on a survey of 182 students, statistics show that 40 percent of students plan to move home after college, while 60 percent plan to live on their own.
Nuanced Variables
Psychology professor and director of Center for Marriage and Relationships, Christopher Grace, said the act of moving back home is not necessarily bad or good, but is evaluated based on one's heart and motive.
"The world tells us that you have to get out, you have to grow up or you're entitled. I think it comes down to your heart and attitude," Grace said. "Neither one is good or bad, there are too many nuanced variables."
An Easy Fit
Senior biblical studies major Benjamin Razon plans to return home after graduation because he feels that returning home is a good fit for him.
"I plan to work closely with my church. I'm a Bible major and my parents are really involved in that so it only makes sense that for the first few years I would move home before I can get up on my feet. I am not opposed to living at home and my parents aren't opposed to having me at home. It's just an easy fit," Razon said.
Like Razon, sophomore biological science major Stephanie Vargas also plans to return home after graduation. As a commuter, home life has allowed Vargas to save money, as well as remain motivated in her studies.
"I grew up in a very family orientated culture and so it's very hard for me to be so distant from them. Family — they're my motivation. The closer I am to them, the more motivated I am," Vargas said.
Despite the perception of students returning home post college as non-traditional or against social expectation of success, senior public relations major Kiara Bernal currently lives with her parents and thoroughly enjoys it.
"I am living at home by choice, It's not because I have to. I don't see any reason for me to move out yet and for financial reasons too — I feel it's kind of pointless if I were to move out and start living somewhere if I am planning to live locally. Why pay to live somewhere else when I could be saving my money and then be able to still pay my student loans off," Bernal said.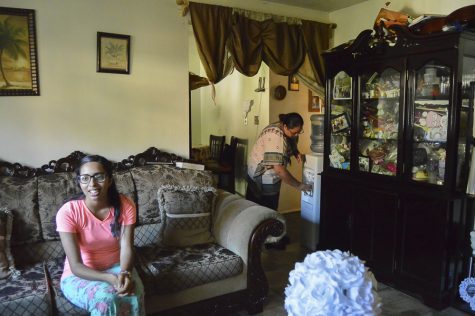 Independence
Ethan Amdahl, first year graduate student at the Rosemead School of Psychology and resident coordinator of the Li apartments, took steps to build up his independence.
"During the summers I didn't go home, I stayed in La Mirada and payed for rent so I could learn those skills and know what it's like to pinch pennies for rent," Amdahl said.
Senior computer science major Patrick Bayers plans to venture out on his own and find a job after college. Bayers sees an importance in independence, but according to Bayer's parents, returning home is always an option.
"The majority of my friends are wanting to be more independent as well. You learn a lot from your parents telling you, 'You have to figure this out,'" Bayers said.