Volleyball sets 2015 season success
An early look at the 2015 Biola volleyball team without NAIA player of the year Amy Weststeyn.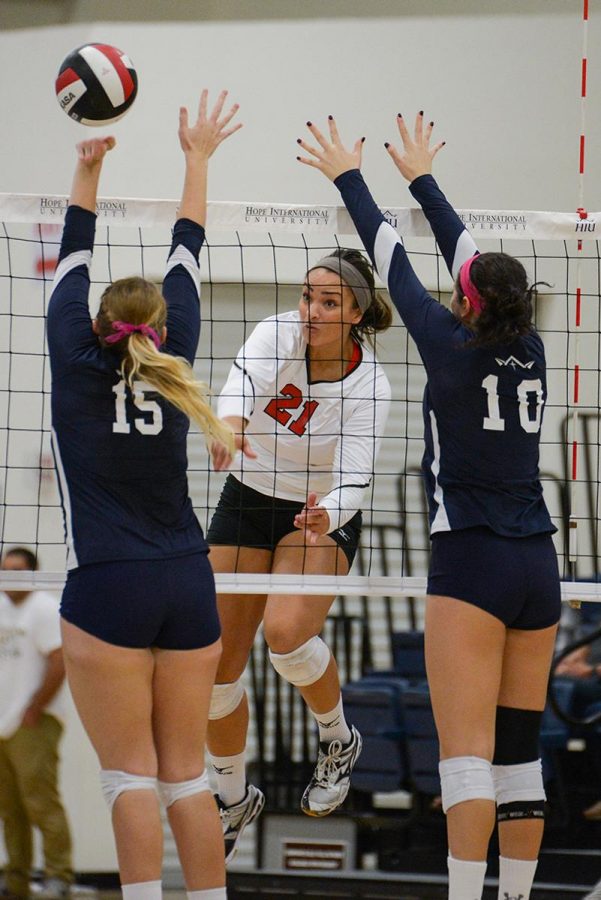 Jack Finck, Writer
May 6, 2015
Biola's volleyball team is the most consistently successful program as of late for the Eagles. They have made the NAIA National Tournament for the past seven years, including one quarter-final loss, four semifinal losses and one appearance in the championship game. The team has also averaged a .857 win percentage since 2012.
Continuing Success
The Eagles look to continue their success in the 2015 season despite the loss of three seniors including middle blocker Amy Weststeyn. Weststeyn earned the NAIA Player of the Year award in 2014 thanks to her career high of 490 kills. Biola also lost Jaci Schork and Charley Parker to graduation.
The 2014 season also marked the last time the Eagles will face their rivals Concordia University Irvine, who are moving to NCAA division two, and University of Texas at Brownsville, who will be merging with the University of Texas-Pan American. Biola beat both Concordia and Brownsville in their last meeting.
Returning Players
Three juniors who earned the 2014 NAIA All-American team honors will return for the Eagles in 2015. Those players are middle blocker Lauren Hoenecke, and outside hitters Alyssa Mason and Jocyln Kirton.
Mason led the juniors with 389 kills and 450.5 points, while Kirton earned 368 kills of her own with 414.5 points. Hoenecke led her class with 105 blocks for the season.
Other returners include junior setter Ashton Arbuthnot and freshman setter Allison Spencer. Spencer led the Eagles with 825 assists and Arbuthnot closely followed with 817. Junior left defensive specialist Alex Brehaut led Biola's defense with 466 digs and will look to maintain her defensive consistency next season.
Remaining Commitments
Biola has already received commitments from right side hitter Stephanie Jewett from North Carolina. Jewett received all-conference honorable mention, and was placed on the Carolina Region All-Tournament team.
They also added three time all-area setter Becca Branch. Branch played on the varsity squad all four years for Chaparral High School in Temecula.
The team will remain under control by the 2013 NAIA and five-time Golden State Athletic Conference Coach of the Year Aaron Seltzer. Seltzer holds more wins than any volleyball coach in Biola's history with 348 while also maintaining the highest winning percentage of .758.
Anticipating the 2015 Season
It will be another short summer for the Eagles volleyball team as the 2015 season will likely begin in early to mid-August. Biola can expect another successful season with Seltzer at the helm as head coach, as the team continues to chase the NAIA National Championship victory they have come close to so many years before.