Learning Center provides more technology programs
Assisted programs for students increase in the Learning Center while other colleges continue serving conventional programs.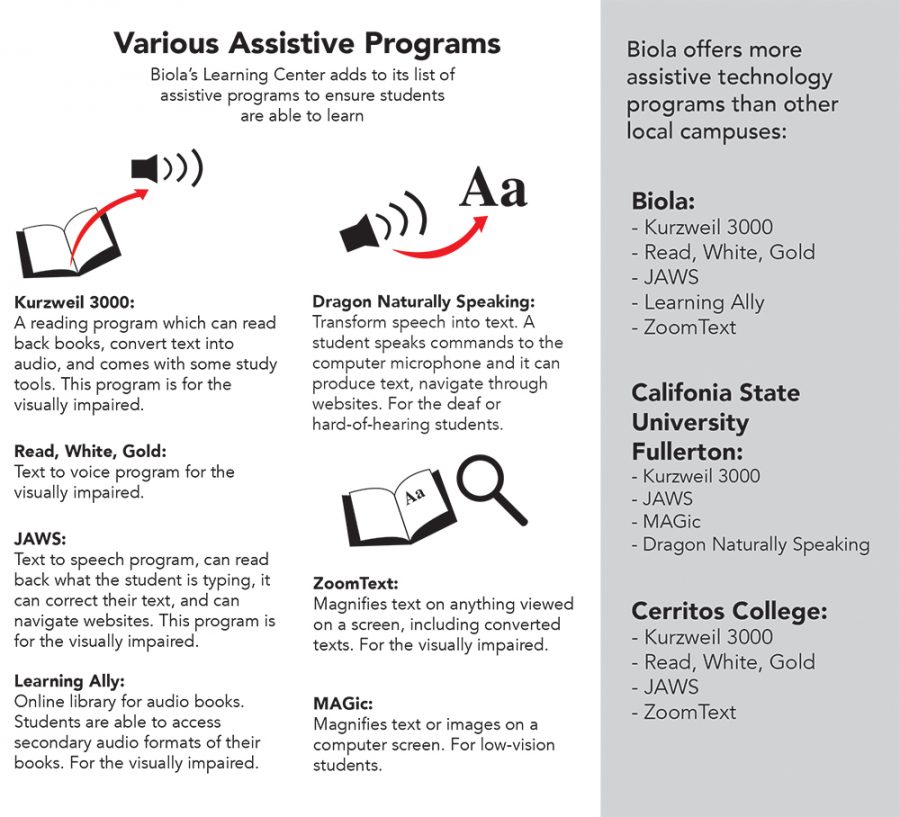 Sarah Pineda, Writer
May 6, 2015
While many universities share similar assistive technology programs, the Biola Learning Center provides a larger array of programs for students.
Accessible Learning
While Biola has the Learning Center, Cerritos College works through the Disabled Student Programs and Services and Cal State Fullerton has the Disability Support Services. These departments fund assisted technology programs at each school. All three departments share the same assisted technology programs for blind and low-vision students called Job Access With Speech and Kurzweil, to make learning accessible.
"Universal Access and Design for Teaching and Learning takes into account that everyone has a different learning style and learning preference and so we try to accommodate everyone's learning style and learning preference," said Irving Bartikofsky, disabilities specialist and instructor for Cerritos College.
For deaf and hard-of-hearing students, Cerritos College offers the Dragon Naturally Speaking program, which transforms speech to text. Through voice commands, students are able to produce text and navigate through websites and are able to access these programs on the school's computers.
"All our assisted technology programs give them access to where they would normally not have access to," Bartikofsky said.
JAWS is a popular text-to-voice program that allows students to hear text in any Windows application. JAWS can also be adjusted by the person, pitch, rate and tempo of the voice to the liking of the student.   
"This is their way of finding out exactly what they are using on their screen. For example in writing papers, it will read back what they are writing," said Roman Hernandez, assistive technology specialist for Cal State Fullerton.
The Learning Center at Biola recently acquired additional programs for the blind and low-vision students, like music composition software. The program assists students in writing and performing their own music. Another assisted technology program provided is audiobooks from an online library called Learning Ally, which works alongside the Learning Center.
Greater Autonomy for Students
"Many of these accommodations provide students with multiple means of access to course content and assignments which would otherwise be prohibitive in nature given their particular situation or condition. They also tend to provide a greater sense of personal autonomy for students, allowing them to manage their own tasks rather than having to rely on another person for help," said Jennifer Roode, director of the Learning Center at Biola.
Students are able to access these programs from each school free of charge by showing appropriate medical documentation. For the Biola Learning Center, the documentation must be from a licensed professional which is then reviewed by the Learning Center director, Roode said. The Learning Center then establishes an academic support plan for the student.
"The beauty of so many of these technological accommodations is the level of autonomy that is provided for students," Roode said.