Senators wrap up lingering proposals
With the semester coming to a close, senators vote on final funding proposals for the year.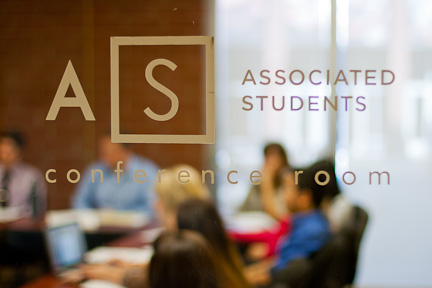 This week's AS senate meeting began with Graham Gantzer, AS controller, updating senators with the budget for this semester. Senators have currently passed $48,170 in proposals and $57,815 remains unused in the budget.
Matthew Porter, vice president of finance, spoke with senators regarding last week's vote about their recommendation for next year's senate that would place a cap on the amount of funds for dorm events. Porter gave senators a graph showing the total money amounts passed for each individual dorm from 2011 to this year for senators to present to their Resident Directors along with a rough draft of a proposal of the cap for next year's senate to consider.
Madeline Johnson, senior psychology major and student director of Thrive, spoke with the senators about Thrive, a ministry from Christian Formation Ministries and Christians for Biblical Equality on campus that discusses topics regarding gender, students' experiences and messages they receive regarding gender and what the Bible says about the differences between men and women. Johnson asked senators to encourage students to attend events and meetings hosted by Thrive bi-monthly on Wednesdays from 7:00-8:30 in the Mosaic Cultural Center.
Proposals
Cal Calica, diversity liaison, proposed $210 for the AS Diversity Summit on Thursday, May 7 from 8-11 p.m. The funds will provide for Chick-Fil-A catering for the 25 students who represent Unidos, Biolans Equal Ground, NakID Ministries, Black Student Association, Multi-Ethnic Programs and Development, Global Students Program and Development, the Biola Feminism club and Thrive, as well as Taylor Stribbling, next year's SGA president and Drew Mattocks, next year's vice president of SGA.
Samantha Miller, sophomore public relations major and south Horton senator, proposed $400.47 for a petting zoo on Sycamore lawn located between Calvary Chapel and Metzger Hall. The event will take place Tuesday, May 12 from 11:45-2:45. The event will feature the same types of animals as the petting zoo earlier this semester. Part of the funds will include posters advertising that the event was funded equally by AS and the library. Furthermore, the event has been approved by campus coordination and risk management.
Tyler Hormel, AS president, proposed an amended constitution in light of split of AS into SGA and SPA next year. Changes include rephasing the preamble, excluding the vice president of events and programming position and clarifying the transition from AS to SGA. The changes also include excluding the controller position and delegating the responsibilities of processing financial documents, updating the budget, interacting with HR regarding hiring and firing to next year's vice president of finance.
Voting
Calica's AS Diversity Summit proposal was passed unanimously for the full amount of $210.00.
Miller's petting zoo proposal was passed unanimously for the full amount of $400.47.
Hormel's proposal for the amendments to next year's SGA constitution was passed unanimously.
Business majors Katie Olesson and Josh Douglass's proposal for free student planners from Student Orientation Services was passed 13-1-1 for the full amount of $3,358.50.
Senior business major Brad Winsbury's proposal for sponsoring an orange tree outside of Emerson Hall was passed 12-2-1 for the full amount of $210.
Senators denied AS Intramurals Coordinator Zach Castle proposal of $575 for funding for the upcoming Stall Out! Frisbee tournament in a voting decision of 2-10-3.