Students fundraise tuition online
With no other options to turn to, students rely on donations from others.
Last fiscal year, Biola raised its tuition by 3.53 percent, causing more students to get creative with the way they finance their education.
Some students are unable to access student loans or are unable to borrow more. Jong Yoon, senior Christian ministries major, was given money through scholarships from Biola but still had insufficient funds. Yoon found himself going to the financial aid counselors to see if he could be granted more money.
"I can't take out student loans. I would like the option to have that instead of having to fundraise 'cause I'm a very independent person so having to depend on other people is really hard and I wouldn't want people to sacrifice [for] what I should be doing," Yoon said.
GETTING CREATIVE
Many students use online fundraising websites such as GoFundMe and YouCaring to raise the necessary funds to continue their education. Yoon has fundraised in person for four years and online on GoFundMe this past year.
"My primary fundraiser was putting on different kind of events. So I put on concerts and I sold t-shirts, bracelets, and tank tops that … my friends and I designed," Yoon said.
While Yoon originally fundraised in person, he decided to expand and use social media to help spread the word.
"I technically have fundraised online this whole time through social media, but I started using GoFundMe this last year…I opened this account to see if people wanted to donate directly to an online fundraiser that would go directly into my bank account and from the bank account it would transfer back into Biola," Yoon said.
CHOOSING A DONATION PLATFORM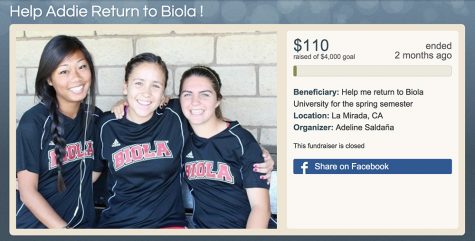 youcaring.com
Adeline Saldana, junior communications major has also found success through her online fundraiser on YouCaring, but prefers having donors donate directly to Biola.
"It's an easy way for donors to donate because it's simply typing in your credit card number. I still do online fundraising but at the same time, I push toward people calling the school and having them directly donate to the accounting office because online donation sites tax you," Saldana said.
Both Yoon and Saldana encountered heavy taxes on their GoFundMe accounts and prefer students and donors to use YouCaring.
"I don't recommend GoFundMe because GoFundme takes an extra secret 3 percent that people don't know about, whereas YouCaring and other online fundraising sites take 5 percent which is a very normal thing. GoFundMe takes 5 percent plus its annual … cost of transferring the money so it's 8 percent technically which is a lot more money if I'm fundraising for a big event. They're super reliable and faithful, and the money got sent straight to my account, no funny business. It's just that extra 3 percent is a lot of money," Yoon said.
A RISE IN TUITION
For the 2015-2016 year, Biola's tuition will be $34,498, not including housing, meal plans and any extra fees classes could acquire. About $150 million was received for the 2014 school year and $38 million was given back to the students in the form of five different level scholarships, said Michael Pierce, vice president of business and financial affairs.
"When you first apply to Biola, there's going to be two categories that are going to allow you to get scholarship money. The first one is when you apply, you have a certain GPA from high school and your SAT or ACT scores that came through. Those are going to provide you what they call a merit based scholarship. Part two is you go through the process of providing financial information," Pierce said.
About $124,000 in fundraising and scholarships helped Yoon pay his way through college for all four years. Both Yoon and Saldana have successfully returned to Biola each year with the money they have received.