Iron & Wine dig up gold
Sam Beam's latest collection of early tracks cements his standing as one of folk's finest.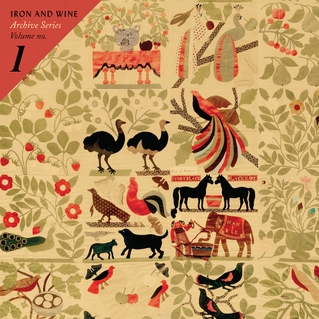 A few weeks ago, Samuel Beam unearthed "Everyone's Summer of 95," the first in a series of unreleased tracks from the Creek Drank the Cradle-era. Each verse ends with Beam quietly singing "Halfway home / and going nowhere." It is one of those traditional, nearly cliched folk moments. You can picture the earnest songwriter shift on his three-legged stool, as he sings about vague "rootsy" ideals, a small slice of regurgitated Americana. It is what I imagine hearing Paul Simon sing "I'm on my way / don't know where I'm going," in 1972 sounded like. And it somehow manages to stay fresh on Archive Series Volume No. 1.
SIMPLE AND TASTEFUL ARRANGEMENTS
It has been nearly thirteen years since Iron & Wine began churning out delicate, bearded lullabies. Folk music has been an unpredictable landscape since then. We witnessed the rise — and subsequent fall — of Mumford & Sons. Sufjan discovered synthesizers and, judging from his recent single, threw them out again. Justin Vernon shelved Bon Iver as quickly as he arrived on the scene to begin with. But Sam Beam is also partly responsible for indie folks recent inconsistencies, with his last record exploring session jazz, and the one before that toying with synths, intricate pop arrangements and electronic percussion.
In light of this, Archive Series Volume No. 1's appeal is abundantly clear. We listen to this collection of songs without expectations of complexity or the grandiose and instead return to his most hushed and honest pieces. The second track, "The Wind is Low," showcases Sam's tasteful slide guitar work, a piece of the puzzle missing from the last few Iron & Wine records. The arrangements are simple, without ever sounding sparse. Throughout the record, we see varying combinations of Beam's plucking guitar work, slide techniques and his anything-but-frantic use of banjo to heighten melody, not overpower it — take notes, Mumford boys.
A TESTAMENT TO BEAM'S LYRICISM
If anything, this collection serves as a testament to Beam's songwriting ability from day one. Beam's lyricism has always been his greatest strength. He captures rustic Americana with the same love, care and passion that Faulkner possessed concerning his beloved state of Mississippi. Every song is ripe with gripping sensory details. Standout track "Two Hungry Blackbirds" exemplifies this. "Spoke to a mother whose baby drowned / gave me advice, or a rumor she once found / Heaven's a distance, not a place." While keeping in mind that this is a collection of tracks from Sam's early days, and not a "return to roots" new sound a la Sufjan, there is more than enough here to let Iron & Wine bring you back home again.