2015 budget proposed
Associated Students propose their budget for next semester's budget.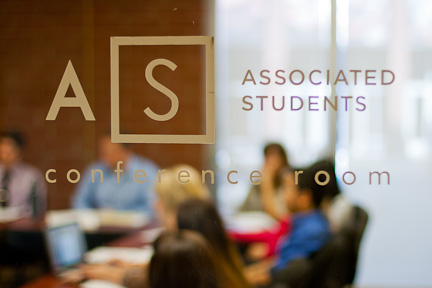 PROPOSALS
The Associated Students meeting began when Vice President of Events and Programming Camryn Hudson proposed for $12,000 to fund musical talent for a fundraising event in May as part of a University Communications and Marketing campaign to raise $180 million for the university. The funds will be used to arrange a concert following a donor dinner at the Ace Hotel in Los Angeles. The concert will be open to 1,100 Biola donors, alumni and students. AS is contributing funds to the event so that a certain number of tickets will be set aside for students.
VOTING
In a same-day vote, the senate unanimously voted to pass Hudson's proposal for musical talent for the donor fundraising event.
SPRING 2015 PROPOSED AS BUDGET
The total estimated budget for the spring 2015 semester came to approximately $245,296.50. This is broken down into a multitude of categories.
For general expenses, $17,400 was proposed that would cover office costs, office improvements, staff retreats and the New York Times subscription.
A total of $96,500.50 was proposed for the senators' payroll.
For events like the Eddy, Mock Rock and the Open Mic Night, $31,875 was proposed for the music and arts department.
The clubs department proposed $24,880 which would cover club funds, advertising and the club fair.
For the social events department, $20,615 was proposed to pay for spring banquet, Catch Me If You Can, social events and Biola Live.
A total of $14,625 was proposed by the intramural department for any expenses for intramural sports including equipment, shirts and referee training.
Spirit events proposed $19,185 for Study Break, dorm championships athletic banquet and spirit week.
The outdoor excursions department proposed $6,251 to pay for gas, rentals and other expenses for outdoor trips.
For plant assets, $3,600 was proposed to upgrade AS office computers.
The market and communications department proposed $4,790 for internal branding, external branding and staff apparel.
The senate proposed $5,575 for discretionary spending for the president, vice president and other high rank officials.
Voting on the budget will commence at the last senate meeting of the semester on Dec. 11.
UPCOMING EVENTS
On Fri. Dec. 12 there will be an event called Hot Chocolate and Prayers outside of the art gallery. Students are encouraged to bring canned food for the La Mirada Holiday Food Drive, which they will pray over before the cans are sent into the community to benefit impoverished families.