Will you hurt with us?
The lack of appropriate response to Ferguson indicates apathy which is not inkeeping with the responsibility of caring for the hurting Body of Christ.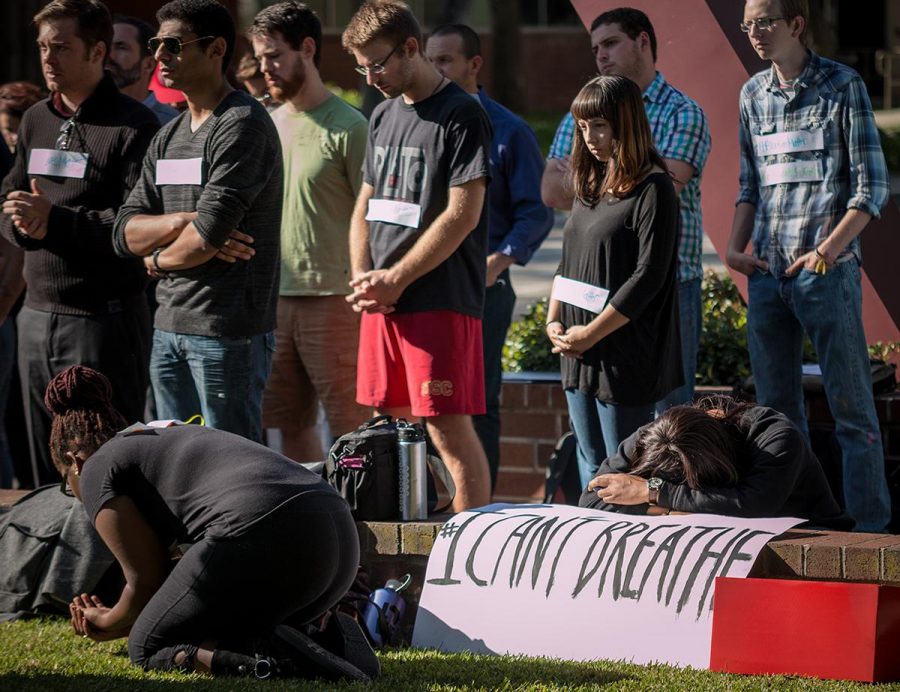 Asnat Ghebremedhin, Writer
December 10, 2014
As a black student, I have been hurting in pain and feeling a sense of brokenness. I know many on campus feel the same way. We have difficulty focusing on school work due to our tears. We have walked around campus for the past two weeks confused, wondering how the vast majority of the student body are able to continue instagramming lattes, yet never speaking up, acting as if nothing is happening.
For myself, and many other students of color on this campus community, the past two weeks have been disheartening. We feel an additional pain when our brothers and sisters in Christ see a part of their body aching and rather than trying to find ways to comfort the pain or fight against the injustices being continually inflicted upon it, the Christian community chooses to stand back, remain inactive and keep silent.
There are even some of our brothers and sisters that act as opponents who do not believe there is reason to grieve. Or they angrily resist the very existence of these injustices. They demand that we wipe away our tears and take our time and energy to explain and defend our reason for hurting. This is not the response of a caring, unified body of Christ.
BIOLA'S RESPONSE TO FERGUSON
I read the first Biola response to these events, "Ferguson protests need leadership and communication," in the Chimes newspaper and I was beyond disappointed. From my perspective, it came across as an extremely poor assessment in terms of both reported facts and essential omissions. To exclusively portray communities involved in protests as a violent mob of black people devoid of reasonable motive also seemed inaccurately dissociative. In fact, there is little evidence to suggest that the protesters themselves initiate violence according to the majority of on the ground reporting.
The article also strongly suggested that the Chimes staff, representing Biola's student body, did not need to hear black voices, and that our shared evangelicalism supported this position.
And yet, the article postures its authors as able to make didactic judgements on the people fighting for their right to live, even taking Dr. Martin Luther King Jr.'s voice out of context and twisting it for the purpose of invalidating current voices and organizers striving for justice. Disappointingly, there are no concrete details about the actual events, no accurate timeline or coverage of context for the protests. I exhort, on behalf of my community, that more nuanced responses from members of the black community remain absolutely vital to a responsible dialogue.
Faculty and staff, led by Professor Brad Christerson of the Sociology Department and Glen Kinoshita of Multi-Ethnic Programs and Development, organized a Biola community response to the deaths of Eric Garner, Michael Brown, and Tamir Rice in the form of a prayer vigil for Justice and Peace on Monday Dec. 8 at noon at the Bell Tower.
THE PRAYER VIGIL
At this prayer vigil, I saw faculty, staff, administrators and students of various skin tones, ethnic groups, ages and genders come alongside those who are hurting to listen and pray for justice and peace and to mourn the deaths of Eric Garner, Michael Brown, Tamir Rice and many others whose names did not make headlines. Over 75 people came to the event, more than I even imagined cared, and they willingly wore on their shirts #BlackLivesMatter. As touched as I was, this event happened almost two weeks after the non-indictment, after more deaths at the hands of police brutality.
"When systemic injustice against the marginalized boils over like this, the best we can do now is damage control. The best way for this to change is for our culture to change. We have to address the crisis now, but the only way to really change anything is to address systemic injustice and listen before these things get in the news, before there is any mainstream-recognized crisis. This is not political. This is based on the kingdom of God, and that's where our goals should be — peacemaking and Shalom. It needs to be a regular part of our Christianity to bear one another's burdens and care for one another," said Glen Kinoshita, director of Multi-Ethnic Programs as he shared at the prayer vigil.
In light of the pain and hurt, I wish for us all, as evangelicals, to actively strive toward kingdom building and Shalom as Lisa Sharon Harper describes in her book "Evangelical Does Not Equal Republican … or Democrat": "Shalom is what the kingdom of God smells, tastes, feels and looks like. It is justice, peace, mercy, reciprocity, harmony, integrity, beauty, truth telling, restoration and reparation, just for starters."