Bolstering spirit
Students remain supportive of Midnight Madness and the event's goal in raising awareness of Biola athletics.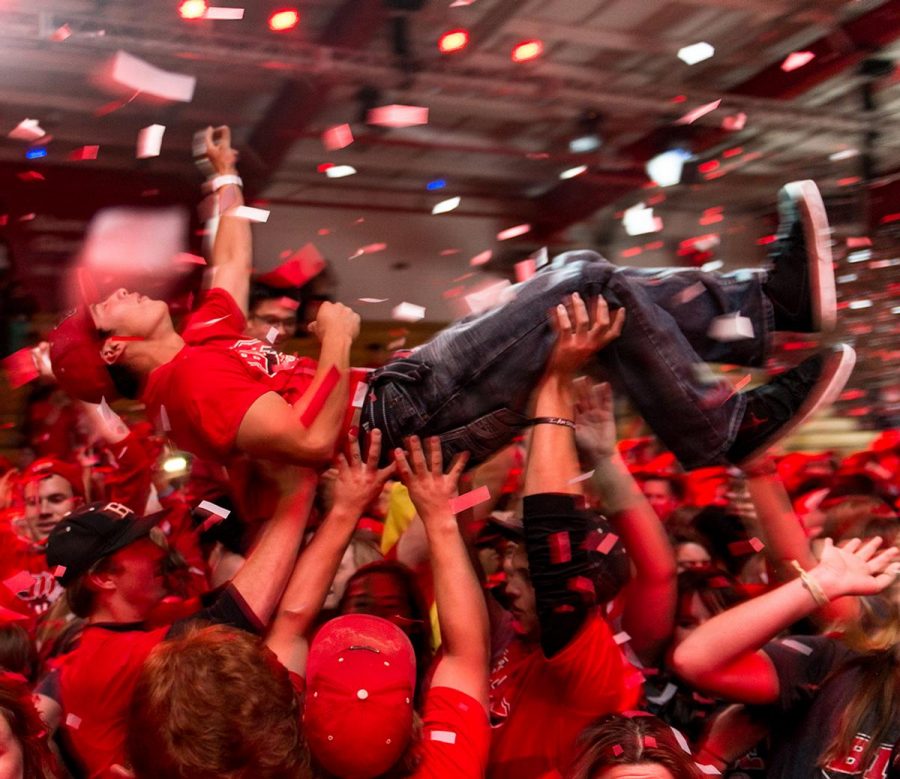 Charity Chezum, Writer
November 5, 2014
Amid games and fluttering confetti, Midnight Madness will officially kick off the men's and women's basketball season and feature other sports teams on Nov. 9.
The event gives current and prospective students visiting during Biola Weekend the opportunity to learn about the Biola sports teams so they can later attend games, according to Hilary Larkins, university events manager.
"I think athletics is a good opportunity for us to celebrate our school and see fellow students compete against other schools, so supporting our teams is just a big part of being a college student," Larkins said.
WHAT TO EXPECT
This year's Midnight Madness provides opportunities for students to earn dorm points and win prizes, like Biola apparel, by participating in a "minute-it-to-win-it" game, according to Korbyn Kehoe, a senior public relations major and lead intern for University Communication and Marketing events.
"Usually every year we teach some kind of stomp or chant that the student body can do at athletic games. It usually kind of dies out, or everyone forgets it, or it is a little too complicated, but this year we are doing something a little more fun," Kehoe said.
This year's Midnight Madness includes a performance by Xopoc Dance Crew. The routine will utilize different material from previous dances Xopoc has performed before, according to Dylan Sapanza, sophomore journalism major. This dance will feature contemporary and hip hop dancing with a guys and a girls section and a big finale, according to Sapanza.
By attending the women's basketball games leading up to event, students can win front row seats to Midnight Madness through a raffle event, according to Kehoe.
SUPPORTING ATHLETICS
Midnight Madness showcases Biola's sports teams, but the event's focus lies primarily on the men's and women's basketball teams. The men's basketball season officially began on Oct. 31, and the women's basketball season started on Oct. 25.
The basketball teams appreciate how Midnight Madness increases student attendance at home games. When students attend games, they create a better environment for the players and have a positive effect on the teams overall performance, according to Pierre Zook, a senior guard on the men's basketball team.
"When there's more students in the stands cheering us on, it's more fun. It gets us engaged, pumped," said Michael Kurtz, a senior forward on the men's basketball team.
Students said they appreciated how Midnight Madness encourages them to support Biola sports teams by attending games.
"I know that a lot of people don't go to the games. Biola isn't a sports school, and I think it's important for the people who are here for sports to be encouraged," said Kristen Ottenad, sophomore communications major.
The traditional dance party and confetti at the end of Midnight Madness is a favorite among students.
"I love the confetti. You can't go wrong when you're just laying on the ground making confetti angels," said Rebekah Schlick, senior elementary education major.