Eagles face tough loss in season opener
Biola women's basketball falls short against Menlo College on Halloween night.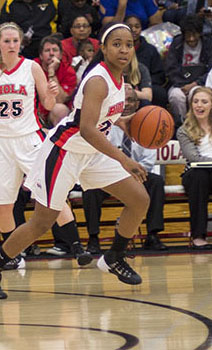 The women's basketball team travelled to Atherton, CA on Oct. 31 kicking off their 2014-2015 season in a game against Menlo College. The two teams meet once each season and Menlo has found victory over the Eagles in close games for the past two seasons.
The first half made for close competition with the Eagles consistently trailing by just a few points. After making a few substitutions, Biola was ready to go and finished the half 23-27.
Biola tied up the game midway through the second half, bringing the score to 44 all. The team excelled under the basket with 35 rebounds and eight points scored from second chance baskets.
Biola averaged 90 percent on free throws but fell behind since they only achieved half as many steals as the Oaks. While the game went point for point in the second half, the Oaks surged ahead in the last five minutes, and the final score came to 63-51.
Senior forward Elizabeth Munger was the scoring leader for the Eagles, scoring 11 points, and leading the team in rebounds with a total of eight.
With Munger being the leader on the court tonight, Biola put up a tough fight but were no match for the Oaks' senior forward Laurel Donnenwirth who scored an astounding 17 points.
The Eagles will play again this Halloween weekend in Vallejo against California Maritime Academy on Nov. 1 at 2 p.m. The Eagles swept the Keelhaulers for the past two seasons and will look to continue the trend on Saturday.