Prayer Through Poetry includes artistic elements
The Eddy event Prayer Through Poetry included art materials for students to utilize while listening to open mic poetry at the Fireplace Pavillion.
The Eddy hosted the third event, Prayer Through Poetry, tonight at the Fireplace Pavilion where students performed poetry at an open mic and created art pieces.





Mark Nesbitt, senior communication studies major and AS music and arts coordinator worked alongside three staff members on expanding the show from previous semesters by moving the stage to outside of the Fireplace Pavilion and designating space to create chalk art. 





"It's just a great event, where people can come together and like a community event. People just getting to share their hearts and what God is doing in their life through art," Nesbitt said.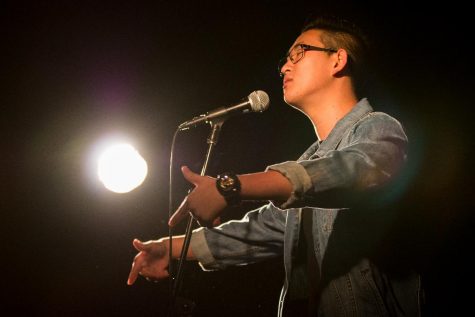 Sophomore business major Brandon Chai shares two self written raps titled "This Is Me" and "Free". | Katie Evensen/THE CHIMES.

POWERFUL POETRY

Prayer Through Poetry featured an open mic where students connected through the poems that were shared. Through sharing an untitled song he wrote and listening to other students share, senior business major D.J. Cortez was able to navigate his own internal conflicts. "Listening to other people navigate through things helps me navigate through what I've been going through. I don't usually sing for people at all," Cortez said. Sophomore business major Brandon Chai, who also performed in this year's Punk N' Pie, shared two raps titled "This Is Me" and "Free" about his range of thoughts, both good and bad, during the event. "[This is] my realm to express myself, [since] I can't sing and I can't really dance. I'm just glad God gave me something where I can put myself out there and express myself and hopefully help someone," Chai said. Kristy Conrad, freshmen secondary education major, shared an untitled poem about how God influenced her in deciding to attend Biola. "I've been praying how I can glorify the Lord through the gifts he's given me and he's been showing more and more that's he's gifted me in poetry, and I wanted to share that gift and not to neglect it," Conrad said.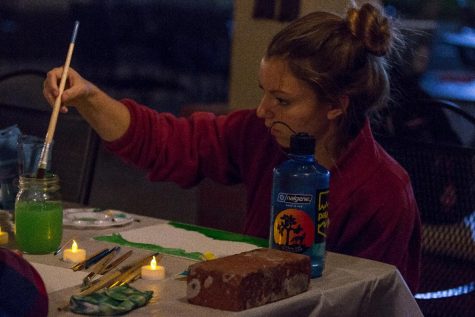 Sophomore intercultural studies major Breigha Sawyer paints during the Prayer Through Poetry event located at the Fireplace Pavilion on Oct. 30. | Katie Evensen/THE CHIMES.

ART EXPRESSIONS

The art station arranged by the fireplace encouraged students to engage in the event. The station provided free canvases, paint, paintbrushes and chalk for students to draw on a designated area in front of the fireplace. Rachel Bennett, freshman elementary education major, was leaving an intramural volleyball game when she heard poetry recitation coming from the Fireplace Pavilion, where she then drew with chalk during the event. "I liked how they had all the art around it and how it ties in prayer with spoken word, and it gives people the chance to pray out loud. It's sort of like praying with people but in a personal sense," Bennett said. Megan Bliss, freshman biology major stayed from beginning to end of Prayer Through Poetry, painting at the art station quietly as she listened to the performers. "I really enjoyed the kids pour out their hearts. It was interesting to see all the different styles that are hear. I honestly loved doing the painting, I hadn't really done anything like this and it was really relaxing," Bliss said.