AS Senate Rundown: Oct. 23
This week's Associated Students Senate meeting featured several student proposals, and an update regarding upcoming multi-ethnic programs.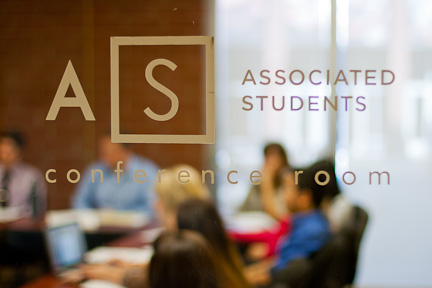 PROPOSALS TOTAL TO NEARLY 8,000
This week's Associated Students senate meeting began with an update from diversity liaison Cal Calica, who informed the senators about the upcoming multi-ethnic programs and development's Sola Soul event occurring on Nov. 7.
Guest speakers Cassandra Van Zandt, vice provost for undergraduate education, and Arianna Molloy, associate professor of communication studies, discussed the importance of teacher evaluations with the senate. Senators also provided suggestions for how to improve the evaluation process.
Next, Van Zandt and Molloy informed senators about ways that the administration looks to improve the core curriculum for undergraduate students, including an effort to teach on more topics of diversity, such as race and gender, in the core classes.
PROPOSALS
The first proposal of the day came from senior theater major Kelli Mireles, who proposed funding of her senior project. The requested amount of $4,000 would cover the cost of costumes, scripts, graphic designs and royalties.
Next, off-campus and commuter senator Rick Anderson proposed for a free chili bar for commuter students before The Eddy on Nov. 13. The proposed amount of $300 covers food, drinks and advertising.
Spirit Events Coordinator Marissa Suarez proposed for the purchase of blackout shirts to hand out to students at sporting events. Previously, AS purchased 400 of these shirts, but they have all been distributed. The purchase of more shirts would allow them to be handed out at Midnight Madness. The proposed amount of $3,300 would purchase 400 additional shirts.
Lastly, vice president of communications and marketing Anders Corey proposed for new software for some of the AS staff computers. Updating two computers costs $330.
VOTING
In a same day vote, the senate voted unanimously in favor to pass Corey's proposal.
ANNOUNCEMENTS
There will be a free panel of women leaders open to all female students in leadership on Nov. 6 in the Collegium.