New dean shares goals for Cook school
Dr. Bulus Galadima, the new dean of the Cook School of Intercultural Studies, shares his hopes and goals for the upcoming year.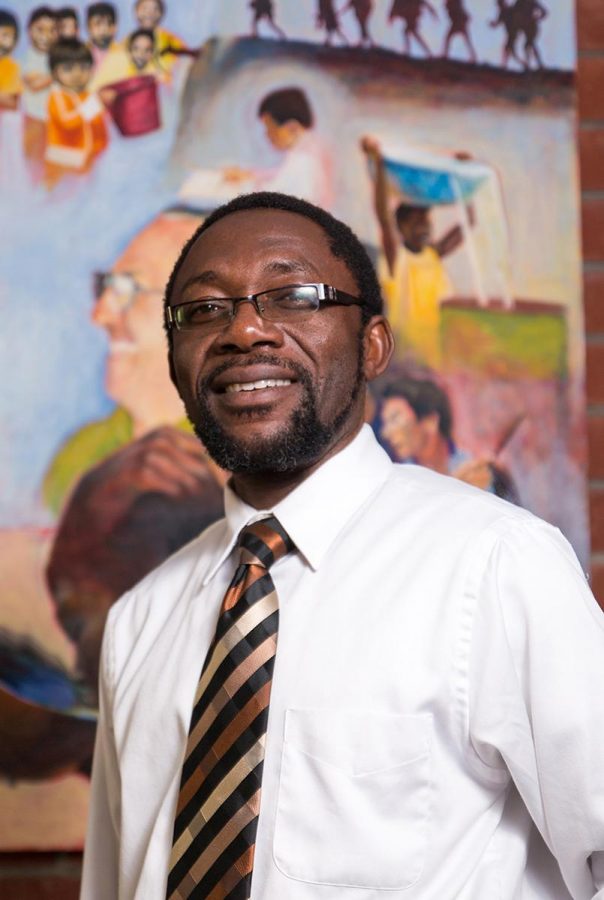 Grace Gibney, Writer
September 3, 2014
Cook School of Intercultural Studies is in the midst of change as Dr. Bulus Galadima begins his new position as dean. After working in college education in Nigeria, Galadima steps into the role of dean with goals for the intercultural-studies department to accomplish in upcoming years, Galadima said.
"Dr. Galadima has spent a good deal of time in North America but also in his native Nigeria and has a real appreciation and appetite for the work of God's kingdom around the world. It's a perspective that is much needed for us," said David Nystrom, Biola's provost and senior vice president.
Cook school plans to increase partnership with other departments on campus. Working together will equip students to serve the world for Christ in multicultural classrooms and workplace environments, Galadima said.
"To be able to navigate and respond well to those cross-cultural backgrounds that you work for in your workplace is something I believe our department could help the whole school do well," Galadima said.
Additionally, Galadima hopes that the intercultural-studies department will provide resources to "majority world" countries in parts of Asia and Africa where evangelical churches have started to grow. Furthermore, Galadima wants to direct aid toward youth and focus on the role of women in the church in these countries.
"I want to see us partner with churches in the majority world. God has blessed Biola with those resources," Galadima said, "I hope our school would partner with significant churches in the majority world to help them feel God's calling to help them within the sphere of influence."
The department will also work to understand the growth of Islam and spur the re-evangelization of the western hemisphere, according to Galadima.
EDUCATIONAL BACKGROUND
Previously, Galadima worked as provost of ECWA Theological Seminary in Nigeria where he monitored the direction and tone of the seminary and oversaw fundraising and public relations.
"He's a proven leader in some very, very tough circumstances," Nystrom said. "In his home country in Nigeria there was muslim-christian violence within yards of where he was located. There is tremendous strength of character in him."
During his time as provost, Galadima and co-workers increased student attendance, improved the financial state of ECWA, and raised spiritual awareness on campus, according to Galadima.
"My commitment was to enable the academic community and we did that. It was a really great time. I believe the Lord grew me through many regards. I got to know about myself and my peculiarities," Galadima said.
Galadima has a bachelor's degree from ECWA, a Ph.d. from Trinity Evangelical Divinity School, a master's degree in political science from Northeastern Illinois University and a master's degree in systematic theology and church history from Wheaton College, according to an article released by Cook school.
STUDENTS ANTICIPATE ANNUAL RETREAT
Galadima will speak at the annual ICS retreat "Living The Great Story Together" Sept. 12-14 in Oxnard, California.
Senior ICS major Andrew Nelson said he looks forward to hearing from the new dean.
"I think the new dean is going to have a lot on his hands. He's stepping into some big shoes but there is nothing huge. I feel like he is going to do a great job," Nelson said.
Sophomore ICS major Rachel Blaser feels pleased with her learning experience at Cook school and hopes that Galadima is encouraged and empowered during his time as dean.
"My prayer for Dr. Galadima during his years here is that he continues to create an engaging learning environment that opens student's hearts and minds to embrace the beautiful richness of the differences of cultures, but even more so, celebrating the similarity of each peoples being created in the image of God," Blaser said.