AS Senate Rundown: April 1, 2014
The senate passed film premieres and other on-campus events in this week's meeting.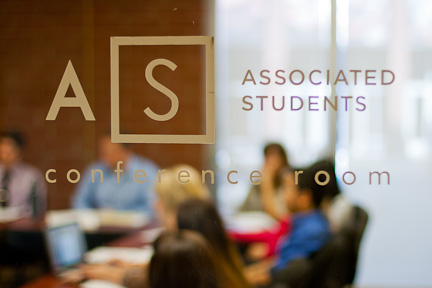 This week's senate meeting involved voting on five proposals. Several upcoming events were discussed, including the upcoming RED Talk event at 7 p.m. in Sutherland Hall on April 4, the Athletic Banquet at 6 p.m. on April 6 on Metzger lawn and Mock Rock, which will be hosted in Chase Gymnasium at 8 p.m. on April 11.
Voting
The senate began the voting by passing the same-day Middle Eastern Awareness proposal by Marmar Zakher, freshman anthropology major. The proposal requested $205 to cover the costs of women's cosmetics for a photobooth that would raise funds for "Voice of the Refugees" as well as awareness of the push for a new Middle Eastern Studies major.
Next, the senate voted unanimously to pass a proposal for sophomore film major Jordan McKinley's "Pong: Legend of the Ping" film premiere totalling $270, premiering on May 1 in Sutherland Hall. The money will cover the cost of food and advertising.
The senate passed junior international business major Seth Lemings and sophomore kinesiology major Cam Campbell's proposal for Hart Hall's annual "Heat of the Night" event. They requested $4,000 and received partial funding totalling $2,000 that will cover the costs of room decorations and food.
A proposal requesting partial funding totalling $820 to pay for advertising materials and a stand-up comedy fundraising event for senior film major Joseph Garrett and junior film major Sam Halleen's film "Paradise Lodge" was denied because the senate has recently decided to end funding for pre- and post-production of films.
Lastly, the senate passed a proposal for the full amount of requested funds — $4,000 — to cover the cost of food, decorations and advertising for the annual Mosaic Masquerade event. This event was proposed by Andrew Nelson, junior intercultural studies major and Horton resident adviser, and will be hosted in Horton Hall on May 10. It will open to the entire Biola community.