AS pulls funding for production costs from film department
Clarifications in AS policy limit film department production funding.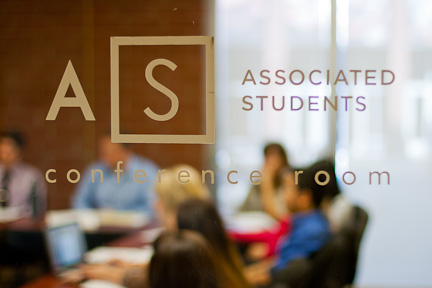 Annah Pritchett, Writer
March 18, 2014
Every semester, a select portion of student tuition dollars are handed over to Associated Students for the funding of various events, programs and proposals across Biola's campus. Last week, AS adviser Laura Igram-Edwards and AS president Evan Tan sat down with Jon Schmidt, an associate cinema and media arts professor, to clarify that AS would no longer be using student fees to fund production costs in the film department.
AS LIMITS FILM DEPARTMENT BUDGET
Over the years, AS has spent more and more student initiative money primarily on the film department. "Student films would come in and ask for and receive funds for everything from paying their staff members to lighting, technical, post-production stuff, to actually doing the film itself," Igram-Edwards said.

She added that last week's conversation was not a policy change, but a clarification between these two departments — a clarification that has been needed for the last few years.
"[Student production costs] got to be big and unwieldy, and so AS decided to put some limits on what that would look like," Igram-Edwards said. "We actually put it into writing two springs ago, saying, 'Here are the things we fund; here are the things we don't fund.'"
It wasn't until about a year ago that AS officially decided to only fund film premieres.

Unlike production costs, premieres are an optional piece of a student film that are intended to honor the culmination of the event with the campus.
"Its just to celebrate what they're doing and create an event and community building around that event." Igram-Edwards said.
FILM MAJORS SEEK DIFFERENT SPONSORS
The task of the film major seems to be a little more costly than other majors because of the pre-production and post-production costs.
"The class gets money from the program — usually around $4,000 to $5,000 — but to make a solid student film you need something in the range of $10,000," said film major Amanda Darouie, who is part of the Biola film class this semester.

Without the money from AS, film majors must be a little more creative in the way they gather funds. Their options range from donations from family and friends to websites specifically created for fundraising.

"There is a website called Kickstarter where people who are total strangers to you can donate to your film. One film I'm working on called 'Little Emily' raised $10,000 dollars on the website," sophomore film major Megan Mead said.

Websites like Kickstarter are used by professional filmmakers as well as students, Mead said that she had seen the site be able to raise up to $10 million in funding for projects.
Gathering the money that goes into creating a film, whether it is a professional production or a student project, is a constant struggle of the filmmaker.
"For personal stuff, no, I'm not super confident about getting funding. I guess you have to work within your resources," Darouie said of her own experience.

The money that was previously used as a resource to film students is now available in AS for any student on campus who is willing to propose an initiative.