Men's basketball: Eagles prepare for rematch against Westmont
Eagles look to beat Westmont in must-win whiteout rematch.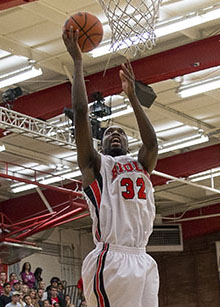 Junior Conroy Lester goes up for a layup during the last home game of the season against Arizona Christian. The men's basketball team looks to overpower Westmont in their first playoff game on March 6. | Natalie Lockard/THE CHIMES [file photo]

After dropping 65-60 to the Westmont College Warriors the men's basketball team found themselves in a three-way tie for fourth place in conference standings. Although the loss was disappointing, the Eagles have a chance for redemption in their first playoff game on Thursday night. Biola will face Westmont for the third time this season to determine whether or not their season will continue.

Biola faced the Warriors earlier in their first conference game of the season and defeated them 74-66.The win not only put the Eagles at 1-0 in conference play, but also ended Westmont's four year winning streak over Biola since November of 2010.

Unfortunately, the Eagles were not able to reproduce the same results on Saturday at Westmont. Biola struggled to stop Westmont's forward C.J. Miller, who scored a total of 30 of the Warriors' points in the game.

Now that Biola is back on home court, the Eagles are ready to face off against the Warriors. Since this is their third time going up against Westmont, the Eagles know what to expect from them. However, the same could be said for the Warriors.

"I don't see it being that much of an advantage either way," senior forward Andre Murillo said. "But I think that it's good that we know we could have played better than we did last time against them."

Armed with the knowledge that they have on Westmont, the Eagles can prepare and adjust their offense to be able to take control of the game.

"I think that we have to be patient on offense," said junior forward Mike Kurtz. "They tend to slow it down, and we're not really used to that, but we can play with that too. We just need to be playing our own game and making sure that we get the best shots we can."

The Eagles have had a rough go over the last few weeks, but they are choosing to put the past behind them and focus on one game at time.

"Honestly the best thing that we can do for playoffs is focus on nothing but this game," Murillo said. "I think that it won't do any good to think too far ahead at all. It's always a temptation because of the excitement of playoffs, but we have to keep in mind that this could be our last game."

The Eagles will face off against Westmont at Chase Gymnasium on March 6 starting at 7:30 p.m.