Biola panel tackles the art of tough conversations
Tim Muehlhoff will lead a panel discussion on the art of conversation in Sutherland this Friday at 7 p.m.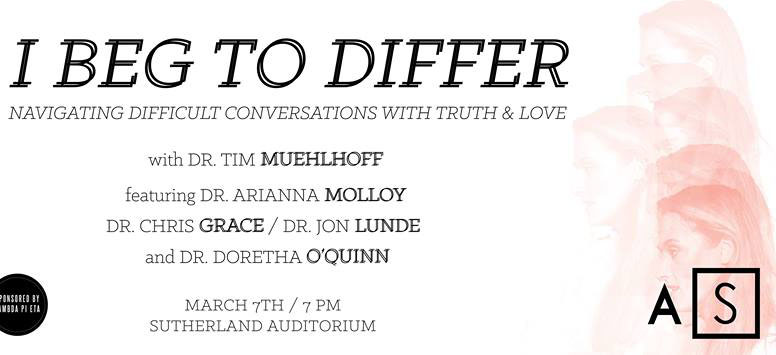 Annah Pritchett, Writer
March 5, 2014
Courtesy of Associated Students

A sampling of Biola faculty members led by professor of communication studies Tim Muehlhoff will gather in Sutherland Auditorium this Friday at 7 p.m. to have a conversation about conversation.
MUEHLHOFF TO LEAD PANEL DISCUSSION
The event takes its title from Muehlhoff's new book, "I Beg to Differ." Muehlhoff will lead the other members of the group in a panel-style discussion. They will act as a living, breathing example of the structure and ideas within his book.
"[The event] will be the actual model asking the four questions in the book, and then the panelists are going jump [in] with their perspective," Muehlhoff said.
Navigating hard conversations with truth and love has been a project 15 years in the making for Muehlhoff. His book pairs the conversations and conflicts humans are constantly entering into with the teachings of the book of Proverbs.
"Proverbs has a ton to say about good and bad communication, if anyone can talk about issues, it should be us. As Christians we have to take the lead, we have to be able to talk about these differences," Muehlhoff said.
His book "I Beg to Differ" will be on sale at the event for $12.
CHAPEL CREDIT AND DONUTS OFFERED
Along with chapel credit and free Krispy Kreme donuts, this event offers students specific tools and strategies for entering into divisive conversations. Associated Students religious lectures coordinator Mark Nesbitt has high hopes for the upcoming event.
"I would hope that this event will give Biola students a greater understanding of how to engage people who disagree with the Christian worldview and how to disagree with each other in a loving and respectful way," Nesbitt said. "Best case scenario, students leave with practical ways to infuse love and truth into their disagreements, whether it be with a roommate or an unsaved co-worker."
The panel consists of an eclectic group of professors, each an expert in a different area of communication. Doretha O'Quinn, vice provost of multi-ethnic and cross-cultural engagement, biblical studies professor Jonathan Lunde, communication studies professor Arianna Molloy and psychology professor Chris Grace will make up the panel. They will address conflict in the workplace, interracial relationships and theological differences. Grace will provide analysis on what happens physically, mentally and emotionally when one is in the middle of conflict.
Since difficult conversations come in all shapes and sizes, it is helpful have an arsenal of healthy relating strategies before entering into conflict. Muehlhoff's writings provide clear cut solutions to an array complicated situations.
"I like to say all of us have a metaphorical tool belt," said panelist Molloy. "This book is one of those tools that we can pull out in a variety of instances, and it will be applicable."
This event finds itself ahead of the curve in conflict resolution. Rather than mere encouragement to enter into conflict, Muehlhoff's research along with the panel's insights will give students constructive strategies for entering into hard conversations, as well as successfully navigating out of them in truth and love.