Lukewarm survey results inspire PAC to act
New initiative formed to improve university through employee volunteers.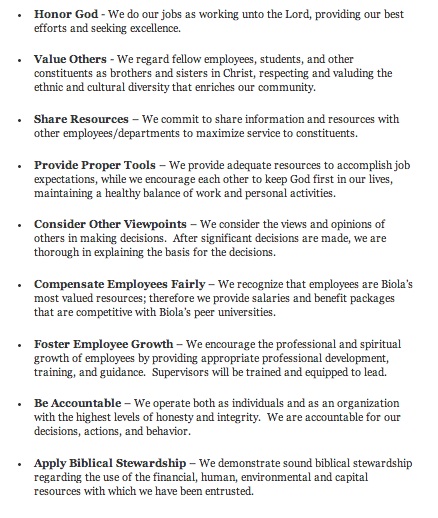 Cornerstone, a grassroots initiative to involve employees in improving the university, focuses on employee satisfaction and aims to positively impact students' experiences. President Barry Corey will speak at a luncheon for employees volunteering in the program and President's Administrative Council members to launch the program on Friday.
As the university works to address work environment issues, students should see the effects through their interactions with staff and faculty, said Michael Pierce, vice president of business and financial affairs.
Focus is on the students
"Ultimately, everything we do here is not about ourselves, but really about developing students in mind and character to impact the world for Christ," Pierce explained.
Cornerstone was created during the fall 2012 semester when administration, including Pierce and senior director of human resources Ron Mooradian, drafted a document outlining nine important standards for employee operations, said Susan Kaneshiro, associate director of human resources. Among these key "cornerstones" are values such as honoring God, sharing resources, fostering employee growth and applying biblical stewardship, according to the employee cornerstone document.
An employee-wide survey sent out early in the spring 2013 semester, which included adjunct professors for the first time, asked for an evaluation of how the university fulfilled the cornerstones, said Brenda Velasco, assistant director of public relations and internal communications. The survey received responses from over 70 percent of employees. While there were no negative answers, some ratings fell into the neutral range, she said.
Many of the comments left on the surveys by staff and faculty concerned the services provided for students at Biola, from emotional care and education to the affordability of Biola and student debt, Pierce said.
NEUTRAL NOT AN OPTION
The university was not satisfied with accepting neutral as a sign that things were working as smoothly as possible. Instead, they identified the less than positive areas and began discussing how to provide solutions to these gaps.
"We are always striving for excellence … there is room for improvement at any level, and so I think it's great that the administration is indirectly communicating that to our staff and faculty," Velasco said.
Cornerstone's seven action teams, created to discuss and find solutions to the gaps, are comprised of approximately 55 employee volunteers, Pierce said. Each member of the PAC will sponsor one of the action teams by representing the employees' ideas to upper-level administration, he said. Throughout the next year, the teams will address a specific issue and work toward solutions.
The cross-departmental teamwork generated by Cornerstone is new to Biola, especially since every senior level employee is involved in the program. The administration looks forward to the community and communication it will foster, Velasco said.
"I think some byproducts of this whole experience will be collaborations across campus with staff and faculty that will inevitably build community among us, and that's exciting because we typically don't work across departments this way, so it will be really great to get us together and collaborate in ways that maybe we wouldn't have before," Velasco said.
Overall, the goal is to work toward meeting the nine standards stated in the Cornerstone document, Pierce said. Another survey will be sent out in fall 2014 and repeated every other year thereafter to gauge the program's effectiveness.
While this benefits employees directly, it is motivated by a concern for students.
"We value the impact that our employees have on the students, so we want to make sure that we're giving them the best employment experience as well," Kaneshiro said.