"Ready to Die" proves these rockers shouldn't try to live forever
The Stooges paved the way for punk, but with the release of "Ready to Die" their best days might be behind them.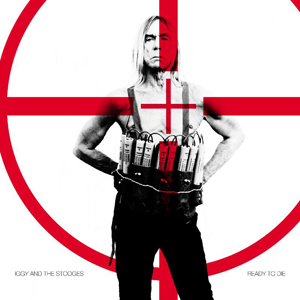 In the '60s and '70s, Iggy & The Stooges was one of the loudest, filthiest, most dangerous bands in rock 'n' roll. They are often regarded as the godfathers of punk rock and they inspired countless musicians to form bands of their own. The band played many shows in their hometown of Detroit and gained a reputation for their intense, chaotic shows. The band took the phrase "live fast, die young" to its full potential, known for being ferocious drug users and alcoholics. This contributed to the band's demise in 1974.
"Ready to Die" first album since '70s
Although Iggy Pop, lead singer, released successful solo records, meandering out of purely punk rock into the post-punk and avant garde scenes, The Stooges remained silent for more than three decades. This was until 2007's "The Weirdness," a record many regarded as a disaster. This album garnered such distaste from critics and fans that the band has seemingly tried to erase it from history, as their brand new album "Ready To Die" is being touted as their first record since their mid '70s breakup.
"Ready To Die" is a follow-up to their 2007 disaster, marketed as their triumphant three-decade return. This release is not the tragic "The Weirdness," but it is still a far cry from classic Stooges albums such as "Fun House" and "Raw Power."
It seems that Pop's voice has dropped a register or two since the '70s, making him sound his age, which can be a detriment to this particular genre. It comes off as an old man trying to relive the glory days, trying to be punk rock and run shirtless around a stage. Most of the time on this record it feels like Pop is apathetic about his vocals; they seem lazy rather than passionate, many times missing notes completely.
Album's guitar work saves album
The one saving grace on this record is the guitar work. The Stooges' guitarist, James Williamson, delivers his best riffs since "Raw Power." The intros to songs feel classic, loud and raucous. See: "Burn, Gun". Unfortunately, these riffs are deceiving and there is a sharp contrast when Pop begins to sing. It's his vocals which remind the listener they are in fact listening to 60-somethings trying to make a rock album, a feat it seems only David Bowie can accomplish.
Pop has never been one for poetic, deep lyricism, but he always came off as sincere in his angst throughout their classic albums. There are tracks on this album with lyrics that are downright moronic. Often sprinkled with profanity, tracks such as "Job" sound like last-minute scribbles with lyrics like, "I got a job / I got a job / I got a job and it don't pay s—." These lyrics are truly unbearable.
It may be time to let the past be the past
There is no doubt that Iggy & The Stooges are rock legends and they truly have nothing but respect in the eyes of this writer. But there is a certain honor in letting the past be past and not attempting to recreate it. Unfortunately for most people, rock music does seem to have an expiration date, and while The Stooges have had an unprecedented impact on rock 'n' roll, it seems their best days are behind them. Long behind them.