Josh Ritter delivers beauty and finesse in "The Beast in Its Tracks"
Josh Ritter's "The Beast In Its Tracks" earns five out of five stars.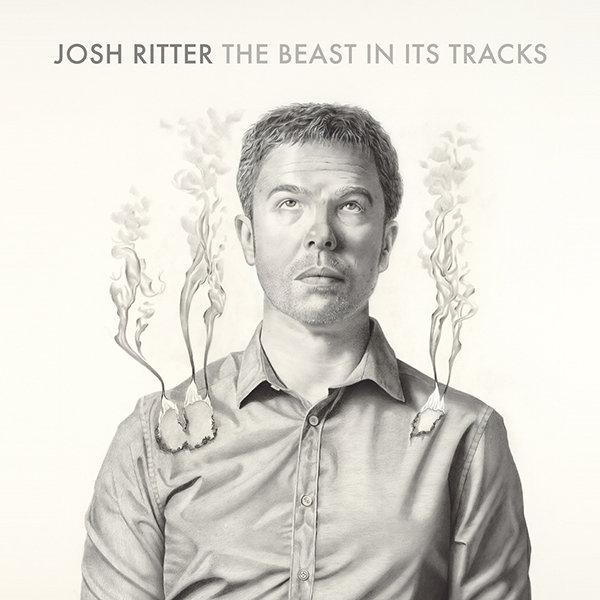 In his career as a singer-songwriter, Josh Ritter has often been compared to Bob Dylan for his use of evocative and confrontational lyrics and his vested interest in the spirituality behind social justice. Ritter's latest, "The Beast in its Tracks," builds itself from a repertoire of songs he wrote after his divorce — which for any Dylan fan strikes a chord of memory for the album "Blood on the Tracks," written directly after Dylan's own divorce. I won't go into the comparisons between the two because I think the allusion is only titular, but the way Ritter captures each moment of heartbreak and the inevitable bittersweet moment of moving on only solidifies Ritter's reputation as the best songwriter since Dylan.
Music on record conceptual and contemplative
Ritter's songs are simply orchestrated: classic folk rock set with prodigious piano flair. The downplaying of the non-lyrical side of songwriting accentuates the brilliance of his poetry. For a conceptual and contemplative musician like Ritter, his lyrics are his greatest strength, but perhaps a strength Ritter has over Dylan, is his music can transition between critical and easy listening.
The structure of the album is very much a narrative — a timeline, almost. Ritter grants intimate access to his processing of the whole event. He moves us through the tracks on the album as he processed the emotions, until we reach the jewel of the album, "Joy to You, Baby" — where he closes by wishing well to everyone, to her and to himself.
Each track compartmentalizes a different facet of emotion. Ritter does not structure his album like this to push all the way through to the beautiful moment of closure at the end, but to rest in each little moment of feeling. The album's greatest strength is in how each individual track serves as an excellent stand-alone to capture a moment in his road to closure, but also how together they move organically and naturally to it. Ritter invites us to take our time through the album, to wrestle with the thoughts and feelings he did — so that by the time we reach "Joy to You, Baby," it's as if we have experienced the breakup ourselves. The little stops he makes along the way are not always pretty or magnanimous; some songs are bitter and spiteful, some are passive-aggressive and some are just pathetic. But every song contributes to the movement toward the end of the album.
Conjures up feelings of late night conversations with friends
Ritter is a musician that excels in the multiple facets of contemporary music: catchy tunes, insightful lyrics, and an emotional performance. This makes him one of the most exciting musicians today. Every album he has released — this one is no exception — reveals a little bit more of himself and his talent through compelling lyrics and well-composed melodies. I don't like to think of songs and albums as disembodied sources of creativity crafted for my aural consumption — that just seems wrong. When there is a story and a human face behind these songs, it connects me with the artist, and that fosters an understanding for the artist and his creative intention. Especially with an album that is highly personal and moving like this, it becomes more than a musical experience: it makes it a connection of empathy.
After listening to this album, I feel as if I had just had a late night conversation with a friend. I feel enlightened and encouraged by his experience — that he put into words feelings I'm still struggling to define. This sort of songwriting is my favorite: forging connections between artist and audience to help us love each other better.
No one looks forward to the end of relationships, but it is perhaps one of the sad unavoidable encounters many of us must face. It's been the source of countless albums about agony, self-pity, self-loathing, loathing him or her and wanting revenge. "Beast in Its Tracks" is not about any of that: It's about forgiveness. Josh Ritter chooses, after 11 tracks of processing, to become more fully alive. His penultimate track, "Joy to You, Baby," is a song that inspires me to go and do likewise. It reminds me of some wisdom once imparted by author Neil Gaiman: "Sometimes life is hard. Things go wrong. In life and in love … and in all the other ways life can go wrong. And when things get tough, this is what you should do: make good art." Josh Ritter consummates this advice, and we are all to benefit for it.