Words from the Wise: the Biola Bubble a positive force
Professor Jason Oakes argues that the Biola Bubble acts as an incubator for students.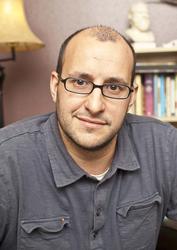 I have heard it since I first arrived to teach here 3 1/2 years ago, the so-called "Biola Bubble." Have you heard about it? It is a safe bet that you have. The funny thing is that I knew exactly what these two words strung together were meant to convey — the artificial sense that life here at Biola is exactly how life is outside … you know, out in the real world.
Is this bubble a good or bad thing? Usually it is mentioned only in a negative light. Examples: "Well, these kids need to get outside of the Biola Bubble and see what life is really like," "The world is a really messed up place, but students are not aware of it since they are protected here in this bubble," or "I cannot wait to graduate and move on, this crazy Biola Bubble is driving me nuts." We will call this "Biola Bubble Bashing".
I don't want to join the Biola Bubble Bashing Band. Instead, I want to boast in the bountiful benefits of the Biola Bubble (OK, that was a bit over the top, this is this starting to read like a Dr. Seuss book).
That is right, I see the positive value of the bubble.
I like what I heard a colleague say (I am pretty sure that it was Doug Huffman). He pointed out that a better metaphor is that of an incubator … as in a chicken egg incubator. Now, it is likely that most of you city folk have never seen an incubator in action, so let the ex-farm boy explain it (or 'splane it, if you speak the traditional ex-farm boy dialect). An incubator is a heated, plastic container where eggs can safely hatch into chicks. You put a dozen eggs in and before you know it you get a dozen tiny baby chickens enjoying life in all their fuzzy yellow cuteness. Are you starting to see the connection? Biola is a protected, warm environment where a Christian student can shape his or her personal Christian worldview and live in a Christian community.
But, and here is where the metaphor kicks in, the chicks do not live in the incubator for the rest of their lives. You do not see any full-grown chickens in there for the long haul. Nope, when the time is right and the chicks are ready for it, they are removed from the warm incubator and forced to live in the cold, harsh full-grown adult Chicken world. (As I write this, I realize that you should be praying for your faculty, staff, and other Biola employees. We are the abnormal full-grown chickens living in the incubator. We need to make sure that we are investing in relationships outside of the bubbles formed by our work and our churches).
At this point, if you are still reading, you should have gotten the point. But I will spell it out quickly anyway. The bubble has a purpose … and that purpose is found outside of the bubble. Look again at Biola's mission statement:
The mission of Biola University is biblically centered education, scholarship and service — equipping men and women in mind and character to impact the world for the Lord Jesus Christ.
The short-term "Biola Bubble" exists so that you can be preparing for your long-term mission. One of the ways that we can be preparing for this mission is by looking for darkness in this world that needs the reconciling work of Jesus. This is one of the reasons that I have decided to co-sponsor an event on Biola's campus along with the Social Justice Club focused on Human Trafficking. Please join us on Wednesday, Feb. 20 at 7 p.m. in the Andrews Banquet Hall in the Talbot East building (perhaps you have noticed the signs posted around campus).
Setting aside time now to consider the non Biola Bubble world that needs impacting will prepare you for your post Bubble mission. And what a huge mission it is … to impact every corner of this globe, geographically and vocationally, for the sake of the gospel!
Photo Courtesy | pointmag.biola.edu