"Boy Meets World" garners a new spinoff series
"Girl Meets World" will pick up the story of Cory and Topanga through the eyes of their daughter.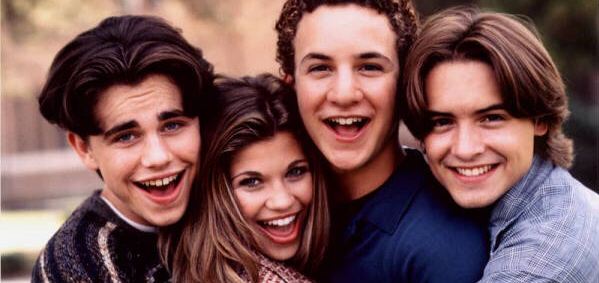 Many Biola students enjoyed watching this Boy Meets World cast back in the 90's. | Courtesy of collider.com


Every generation needs its coming of age story, its very own representation of a set of adolescents making the transition to adulthood. F. Scott Fitzgerald had his Amory Blaine, courtesy of "This Side of Paradise," and J.D. Salinger lit up the '50s with Holden Caulfield's occasionally relatable but mostly irksome cynicism. Since the age of television came upon us, we've had "Happy Days," lived out "The Wonder Years" and were "Saved by the Bell." But for us 20-somethings, the name that rings the truest is Cory Matthews. And the latest news is he's raising a daughter.
Cory and Topanga's daughter will come of age
Disney announced on Monday night that their spinoff of modern classic "Boy Meets World" will be officially moving forward. Moreover, Ben Savage and Danielle Fishel will be reprising their roles as Cory and Topanga from the previous series. "Girl Meets World" will be about the Matthews' daughter, Riley, a 13-year-old making the same transition her parents did into the adult world around her. Michael Jacobs, the creator and executive producer of the former series, will also be at the helm of the offshoot. Just like "Boy Meets World," there will be an older sibling dedicated to his sister's torment and a mischievous best friend.
So what is it that made "Boy Meets World" so wildly popular in the first place? Its success practically guarantees the new series will be a hit right out the chute. The new show also comes at a time where it can fulfill the same niche the old one left. Shows like "Glee" aim for what "World" had, but come up too kitschy. The thing that set Jacobs' show apart was its perfect balance of realism and drama. These were relatable high schoolers but they were also unassuming archetypes for adolescent and young adult viewers.
Beginning in 1993 and ending in 2000, the show allowed a pretty all-encompassing peek into the developmental stages of a group of teenagers from junior high to college. The show was witty, wry and real; it was like watching the cast of "Friends" bumped back a decade in age. There were saddening mistakes and laughs, fights and reconciliations, usually in the same episode. From beginning to end, "Boy Meets World" was perhaps the most hospitable show on television, realistic without ever getting too gritty or unflinching.
Hopefully other old characters will return
Cory and Topanga's happy marriage will be a wonderful backdrop to the new series. Here was a couple that gave youth in the '90s a framework for making romance work. While the new show will be seen through their daughter's teenybopper eyes, one can't help but think that creator Jacobs will be happy to return to his initial couple. The spinoff will allow him to pick up a love story spanning 20 years at this point, given that Cory and Topanga met in 1993 and we'll be reuniting with them in 2013.
As of now, Savage and Fishel are the only confirmed returning cast members. William Daniels' character, Mr. Feeny, managed to make his way teaching the cast from junior high to high school to college, so it wouldn't be surprising if he's back to teaching middle school and, by extension, the Matthews' daughter. It's also true that, no matter what, Feeny's influence will be traceable implicitly if not explicitly. Following in his former mentor's footsteps, Cory has taken up seventh grade teaching as his occupation of choice. Fans are certain to be delighted if Eric Matthews (Will Friedle) and Shawn Hunter (Rider Strong) also make appearances.
"Girl Meets World" has a lot to live up to. Its predecessor was one of the most iconic shows of its era and it's something most of us grew up watching. With the main stars and creator helming the new offshoot, one cannot help but be excited.