Third Day's "Miracle" is average at best
Third Day's "Miracle" earns three out of five stars for being listenable but not breaking new ground.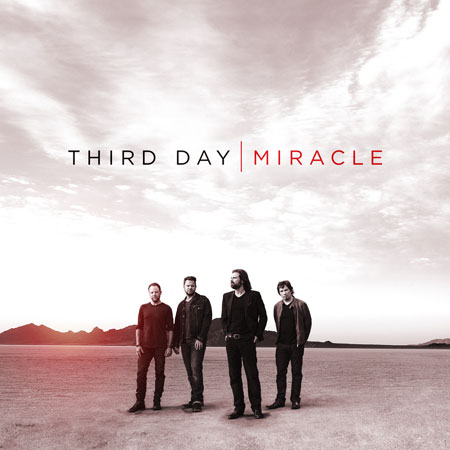 Third Day is a band that always brought a more interesting sound to the table, as they were strongly rooted in southern rock. Christian contemporary music is a genre that is often mundane and safe. Most artists in the genre opt for playing music on the softer side. While most Christian artists in the '90s were channeling a Michael Bolton-inspired adult contemporary sound, Third Day preferred turning their guitars up loud and worshiping with rock 'n' roll. Because of this, they have been Christian radio staples for the nearly 20 years. Third Day returns in 2012 with "Miracle," an album produced by Brendan O'Brien — of The Killers and Anberlin — that channels a more mainstream rock sound than their previous efforts.
Lost early sound for mainstream acceptance
With this release, Third Day seems to have left a lot of the elements that separated them from the pack of Christian artists, trading bluesy guitar riffs for over-produced similar to the likes of Daughtry. This record is the classic case of a hit-and-miss release. There are a few standout tracks accentuating the band's strong points. But there are also many tracks that fall into the realm of being just plain boring and rehashed.
The opening track "Hit Me Like A Bomb" is the closest thing we get to a classic Third Day rocker, with distorted guitars and heartfelt vocals.
"Kicking and Screaming" could be a possible mainstream crossover. The lyrics could be interpreted as either a song for Jesus or a song for a love interest. "Yeah no one can keep me from your side / but if they ever even tried / they'd have to drag me away kicking and screaming." This song would fit nicely on any mainstream rock station right between Nickelback and Train.
Occasionally dark lyrics counterpointed by blandness
Third Day was always characterized as a band that used extremely powerful and worshipful lyrics. This trend is continued with the track "I Need A Miracle," a song that has some danger of falling into Christian cliches, but dares to face dark themes such as suicide and despair. While most Christian bands would rather focus only on the happy, pleasant side of life, Third Day is not afraid to write about real life darkness.
Unfortunately, the song "You Are My Everything" falls into nearly every Christian music cliche there is, containing the line: "Take my hand, take my spirit and shine your light on me." While these lyrics are genuine and worshipful, there are 1,000 songs that say nearly the same thing. Artists such as Needtobreathe and John Mark McMillan have proven the same musical and lyrical themes do not need to be recycled. There are, in fact, different creative avenues that the Christian artist can take to worship God.
"The Victory" is a perfect example of this. It sounds as if Third Day hopped in a Delorean and gave the apostle Paul an acoustic guitar and let him sing the blues. "I've been runnin' in a long race / to try and get the prize / doin' anything I can to stay alive / but I ain't ever gonna give up / even if I'm alone / I'll be runnin' till the good Lord takes me home" This song contains everything that made Third Day unique: a creative lyrical approach, bluesy vocals and vibrant musicianship.
Third Day seem to have found themselves at a fork in the road. In one direction they can take a more mainstream approach. In the other, they continue in their classic approach to music: singing about God, life and love in a way that separates them from the rest as they have done for the past 20 years. While the first option may bring more success, Third Day must ask whether that success worth leaving behind the elements that have made them one of the most loved bands in Christian music.