U.S. News names Biola "Up and Coming" university
U.S. News and World Report recognizes Biola for the third year in a row.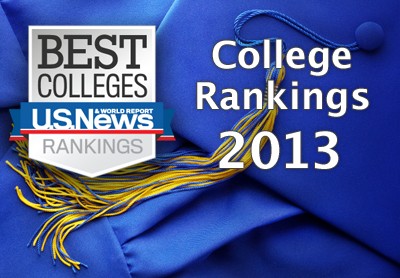 Courtesy | www.colleges.usnews.rankingsandreviews.com

U.S. News and World Report named Biola an "Up and Coming" university for the third consecutive year on Sept. 12.
"The rankings can be a powerful tool in [prospective students'] quest to find the right college," U.S. News and World Report said on their website.

"[An 'Up and Coming' school] is always on the front of being innovative, of growing, of responding to market changes, so to me, I don't ever want to be a school that is classified as arrived because that means you're stagnant," said Irene Neller, vice president of University Communications and Marketing, in an interview on top of the library while watching the space shuttle Endeavour fly over Biola.

Some found the news of the national "Up and Coming University" status less than shocking.

"It's not very surprising to me. When I came here I was surprised at how many kids I came accross from all over the country," Danielle Ducatte, a freshman nursing major, said. She was excited to see just how many people from so many different backgrounds knew about, enjoyed and attended Biola.
How the list is compiled
In order to compile this list, U.S. News and World Report contacted colleges and universities that the Carnegie Foundation for the Advancement of Teaching categorized as national universities. The categories that the Carnegie Foundation sets the accepted standard of higher education, according to U.S. News and World Report. Surveys are then sent out to the national universities so that they can rank each other based on who they believe is "Up and Coming."
In the last five years, Biola has undergone dramatic changes that have put it on the "Up and Coming" list including the new president, new provost, new leadership team, new business building, new Talbot East building and the Center for Christian Thought. Biola is also in the top 100 most viewed university channels on YouTube, and one of 42 iTunes U providers, according to Jason Newell, associate director of communications and publications.
What this does for Biola
Neller believes that the ranking helps Biola attract supporters to the university and scholars who may want to teach at Biola. She said that it also helps Biola gain the interest of foundations that support educational initiatives and efforts.
"More than ever we need to continue to pray for God's favor and pray that everything we do is not for an elitist attitude, for arrogance purposes, to be able to tout, 'We're number one look at us,'" Neller said. "I think the moment we do that is the moment we will fail because we will be giving ourselves the glory, not God."
Biola ranked 16th
In 2011, Biola was ranked 20th and tied with Pepperdine University, Purdue University and University of California, San Diego. The next year, Biola was tied for 16th with Azusa Pacific University. For the 2013 rankings, Biola is again tied for 16th. Azusa Pacific did not make this year's list.
However, some believe that another move into the national spotlight adds pressure to the university.
"I feel like that's a lot of responsibility being an 'Up and Coming' school, especially as we move into the national spotlight with the Biola Underground article that was published by NBC and the lawsuit and I feel like as Christians we need to be really mindful of keeping a good name for ourselves in secular places," Meagan Tomchik, a senior English major, said.