Biola ranks in top 25 of most politically conservative colleges
Despite political apathy on campus, Biola ranks in the top 25 list of most politically conservative colleges.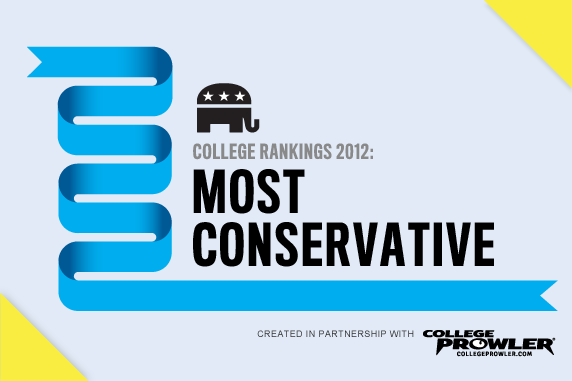 Courtesy | thedailybeast.com
Biola was ranked 20th out of the 25 most politically conservative colleges in the country, according to Newsweek's recent College Rankings 2012 list.
The list was determined through a College Prowler survey that asked students to rank how much of their campus was "conservative" or "very conservative." Students were also asked about political diversity on campus. Newsweek's website says that the percentage of very conservative students was given double weight when compiling the list.
More interest in Bible than politics
While this may seem strange to many, Biola students just don't seem that interested in politics. Scott Gamelson, co-president of the Biola College Republicans, acknowledged students' political apathy.
"We [Biola] have this reputation from our biblical foundation, not politics," Gamelson said.
He believes this perception comes not from political standpoint alone, though historically Biolans have been more conservative, but rather from the biblical values that Biola holds. Gamelson referenced president Barry Corey's speech on the biblical view of marriage and sexuality, and Biola's lawsuit against Health and Human Services, as ways in which Biola is theologically conservative.
Social issues seem to be most important to Biola students over economics and government policy. Despite Biolans' political apathy, David Peters, professor of political science, has observed that Biola has always been seen as a more conservative university because of these close relationships to biblical values.
Importance of political awareness during election season
In the shadow of November's upcoming election, Peters reminds Biolans that Christians have a biblical civic responsibility to the city, state and country to which they belong, and elections are but one way to accomplish this. He would like to see a greater activism among students. Peters mentioned that Associated Students, college political clubs and city council meetings are outputs of this activism.

Conversely, Biola's associate director of communications and publications Jason Newell notes that the university is more excited that it has made U.S. News and World Report's "Up and Coming" list for the third straight year, celebrating its drive to be a highly academic institution, rather than just a top conservative college.
"The Daily Beast's [Newsweek] rankings are fun, but we're not too concerned about making or missing them," Newell said in a statement released on Sept. 12.
Despite the lack of enthusiasm for the election, both students and professors see the importance of reaching past politics into faith.
"Jesus calls us to be leaders so that we can lead others to him," said sophomore biblical studies major Caitlyn Faulkner. "If we can't lead politically on our own campus, how can we expect to lead a nation, let alone lead others to Christ?"