The Killers return in full force with "Battle Born"
"Battle Born" earns four out of five stars for a wonderful return to form.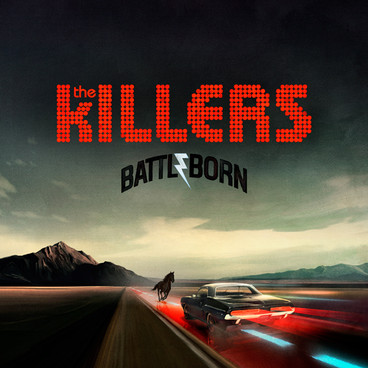 The Killers deal almost exclusively in synthesis. Amid a wash of synthesized keyboards, they have made a name for themselves by synthesizing the soulful storytelling of Bruce Springsteen and the computerized instrumentation of New Order into one. They've never been a band quite ready for progress, and why should they be? Theirs has been a path of regress: a non-stop look backward into the 80s, mining both the lyrical and musical inspiration of John Hughes movie soundtracks for inspiration. Still, "Battle Born" presents a very different group than the young Las Vegas natives who first premiered with the angular new wave of "Hot Fuss."
Their forte has always been the familiar. When "Hot Fuss" first hit the scene, fans and critics alike were staggered by its ability to evoke the era most of them had been too young to experience firsthand. The sounds of late-80s childhoods were echoed by the thumping, discotheque-approved choruses brought on by "Somebody Told Me" and "Mr. Brightside." When it came to "All These Things That I've Done," the phrase "I've got soul but I'm not a soldier" penetrated the English-speaking psyche as a guttural utterance of freedom in the face of a world gone to a padded room.
Though their initial work was influenced mostly by British synth pop, their next album "Sam's Town" brought out the patriot in frontman Brandon Flowers, and their B-side collection "Sawdust" assembled even more disparate influences under one collective head. 2008 saw the release of "Day & Age," a thoroughly danceable but painfully forgettable entry into their catalogue.
Album shows a band that knows itself
"Battle Born" is the first Killers album to be somewhat familiar and nostalgic without any reference to bands gone by. No, this record can be considered an act of wistful remembrance merely by being a new album by The Killers, the same band we've known for so long. Four years have gone by since their last LP dropped and hearing the enlivened, animated drone of synths and Flowers' voice can invoke anyone who came of age in the early 2000s to dance with joy. His voice is crisper than ever, less frustrated and more grown up. Flowers is still an older brother but it's less about the angst and more about the wisdom now. "Flesh and Bone" doesn't tread new ground but, as an album opener, it welcomes the listener with a hurried handshake, entreating a deeper voyage inside.
"Runaways" has been playing on the radio for a while and it would do Springsteen proud.
"We got engaged on a Friday night / I swore on the head of our unborn child / That I could take care of the three of us / But I have the tendency to slip when the night's still wild," go the lyrics. "The Way It Was" also brings out themes of love on the ropes, mistakes made and promises broken.
Maturity is present in music and lyrics
Take any "Hot Fuss" song and you'll find plenty of finger-pointing, admittedly stuck out through tears. "Battle Born" shows some maturity in that the blame game seems to be over for Flowers. This lyrical content is introspective, but only insofar as it can relate to the other person. No more are these the impassioned whines of a heartbroken youth; these are the songs of a lover who feels it's getting too late. Love is grasped for here not out of desperation but yearning. It's as if the songs' narrators are informed by nostalgia, awareness of all the heartbreaks that came before, the previous romances, and now they really want to get it right.
Unfortunately, "Battle Born" still doesn't pack the punch of their first two albums. Perhaps it doesn't have to, though. As youth fades, so does the unpredictable — and for settling into a sound like this, both familiar and more mature, this album is just right.