David Crowder Band releases authentic double album, "Give Us Rest"
The David Crowder Band delivers sound music and authenticity in their newest album, "Give Us Rest."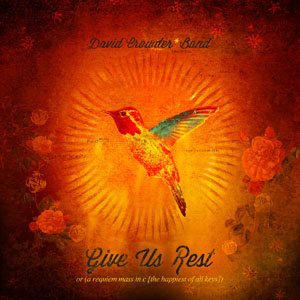 This year I had the great pleasure of attending the Passion Conference in my home city of Atlanta, Ga. The Passion Conference is an international Christian meeting where leading theologians, pastors and worship bands come and pour into 40,000 young adults: It really is quite the experience. At this year's Passion, the progressive Christian rock/bluegrass band David Crowder Band performed their last concert and released their new double album "Give Us Rest."
It was a bittersweet moment seeing one my favorite Christian groups break up; a sentiment that was entirely captured in the new album. Throughout the band's history, they have refused to settle in a single type of music: something I believe to be the result of an overflow of creativity.
Tracks resemble human interactions with God
The premise is a double album that portrays a requiem mass, which is a classical, and often ominous, oeuvre for Roman Catholic services of mourning. Thirty-two tracks in total are broken up into nine different movements, resembling a classical work and each movement shares a different theme, centered around man's interactions with God. Such interactions include praise, rejoicing, mourning, pleading, fearing and proclaiming love — all coming back to the theme of "give us rest" — referring to the eternal Sabbath of heaven.
So yes, I've spouted on and on about the musical achievements of this album, but what of the heart of this album and its creators? And what of the heart of the listener? Is this just another collection of songs to hum, a name decorating some critic's list, an untouched CD case or unzipped mp3 file; or is it a magnum opus that gives glory to God?
Album breaks away from traditional Christian rock
"Give Us Rest," I believe meets the Christian artists struggle head-on: the struggle of creating something beautiful that would not distract from God. As a musical artist, David Crowder Band delves into new territory musically and thematically, breaking out of the typical Christian rock schema. They do this not only by using a more clever arrangement of notes or using a new instrument, I believe that they do this by being authentic. There are times in the album where one would be surprised to hear David Crowder, a known worship leader and Christian musician, asking difficult questions and confessing his struggles; by doing so, he makes the album very personal. There are also times where David Crowder is singing all-out praise to God, songs about undying goodness he has personally experienced from God, and songs offered to us as a plea or prayer: song that resemble an ideal worship.
By combining these two, the personal and the ideal, he creates a musical achievement with which the listener can both empathize and sing along. All in all, this oeuvre does not shy away from representing itself and at the same time, managing to share the great gospel of God: it does not shirk from the Christian faith; it does not only show the bright points; it does not misrepresent our God; most importantly, it does not, even once, take the focus off of God.
Musical ability demonstrated through various genres
Back in 2005, the David Crowder Band released their album "A Collision (3+4=7)," which was their best album prior to the release of "Give Us Rest." What made this album such a work of art was its eclectic variety of music type: This album held everything from radio-style rock songs, quiet interludes, bluegrass hoedowns and even a Sufjan Stevens cover. If "A Collision" is the band's musical renaissance, then "Give Us Rest" is its golden age.
The album sees a large variety between musical genres, touching everything that was covered in ("A Collision"): rock, pop, bluegrass and electronica. It serves as a follow-up to the album, mining the same vein in music creativity and thematic structure. Also, it adds a number of instrumental tracks that borrow from Roman Catholic musical styles, worship songs blending the musical styles of Radiohead and Mumford & Sons, tracks that carry an '80s-esque synth beat (minus the cheesiness), and traditional American folk music (unfortunately no Sufjan covers in this album).
From track 1, disc 1 to track 14, disc 2, this album is an epic: ominous chants, ambient meditations, exploding guitar riffs, foot-stomping banjo, reprises, interludes, singles, Latin, English, and the distinct voice of David Crowder as our guide. It expands the idea of worshipping God to a vast, fulfilling experience, instead of restricting it to a misrepresented schema. Both an achievement musically and spiritually, I give this album a 5 out of 5 and at least couple dozen plays.