Biola AS president resigns mid-term
John Drebinger resigned this week from his current position as Associated Students president, due to a large workload.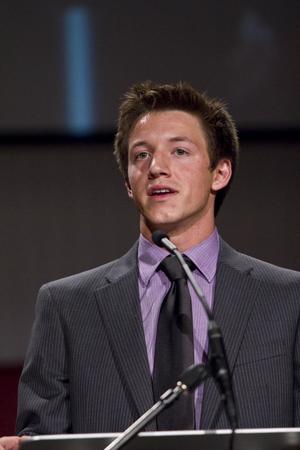 Associated Students president and Biola senior John Drebinger III formally announced his resignation from his position Friday, Nov. 11, with duties to cease immediately.
Drebinger, a business major, did not believe he could properly fulfill the obligations and responsibilities of the position with his current academic load of 17 units and his anticipated graduation in May 2012. While he said he knew of people who were able to balance a job and school, he felt compelled to focus on his academic workload, which he expects to be even heavier next semester at 21 units.
"While I can give it a shot, like I have been," Drebinger said of his position, "I think what's better is to find somebody who can give it a little bit more time and give it what it deserves."
Drebinger stated the decision was very difficult because of his love for the job and because his resignation is disappointing to many people.
Administration and AS staff notified Thursday and Friday
University President Barry Corey received an official letter from Drebinger Thursday, Nov. 10 announcing his resignation. Friday, Drebinger was able to have a wrap-up meeting with DBC during an appointment that had been scheduled earlier this month for a non-related matter.
The AS Executive Board was informed throughout Thursday and Friday. The main staff was given a letter Friday, informing them of Drebinger's decision.
AS plans next steps for leadership
AS has many decisions to make in the ensuing weeks about how to fill the void that his withdrawal is creating, however some preliminary steps are already underway.
"As for basic instructions I definitely have made immediate provisions for different positions," Drebinger said, "but as for long-term, that's something they are going to have to talk a lot more about in the future."
Associated Students could not be reached for comment at the time of this article to comment on current plans. The Chimes will present updates as they are released about the next phases of AS leadership.
Mid-term timing assists future planning
While it may seem an inconvenient precursor to the holiday season, the timing of the resignation was intentional.
"It takes a lot of prep in January," Drebinger said, "and in addition to that we have a lot of events that kick-off in January and February and the elections process starts pretty immediately."
Drebinger did not want to begin projects that he was going to have to hand over to another president mid-process. He also noted that this allows for several weeks' deliberation before the off-season and interterm.
"I think it would have been more of a disservice to just sort of carry it out and fill the rest of my time when I was planning on heading out anyway," Drebinger stated, adding that the team supported this decision.
Drebinger grateful for opportunity
Drebinger and AS senior vice president Janine Marderian, a junior, were elected March 29 after winning over 50 percent of the popular student vote. Since his freshman year at Biola in 2009, Drebinger has continually stepped into roles of leadership beginning with his work as a Stewart senator, which he particularly valued, saying it was one of the best experiences he ever had. He then moved on to becoming a Stewart resident assistant, AS senior vice president and AS president.
Drebinger wishes to thank students for the wonderful opportunity that he received.
"It's grown me in huge ways, it's developed me both professionally and personally and it's been an awesome opportunity to just interact with such an incredible team," Drebinger reflected.
He said the current AS team is passionate to serve students and to glorify God and encouraged students to be fully confident in the team's ability to determine the next steps.
"I don't think there is going to be any effect on the kind of experience students receive from AS," Drebinger said.
Drebinger extended an apology for not carrying his position out to full term and wished to tell Biola "thanks for everything."