Biola Intramurals: more than just the sport
Biolans combine competitiveness and community through intramural sports.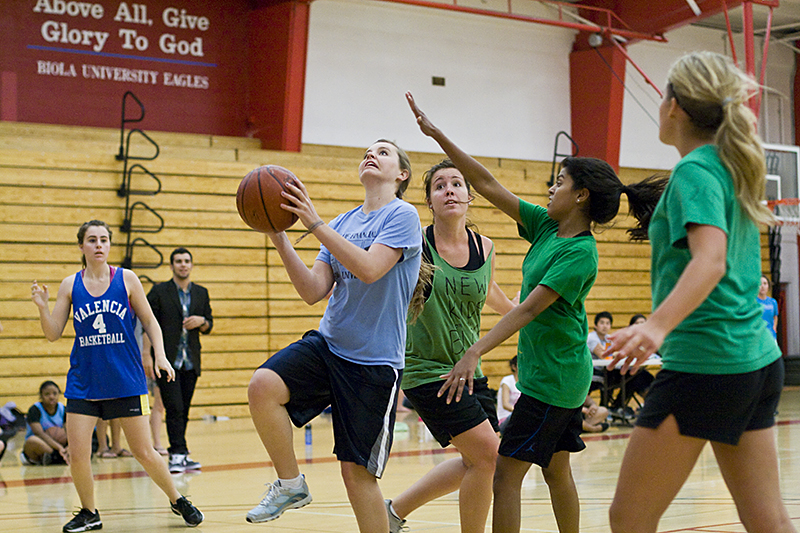 It is just after midnight on a Thursday before finals and Chase Gymnasium is packed full of students. Even the upper seating section is occupied. No, it is not Mock Rock. And no, it is not a guest lecture featuring Francis Chan. It appears to be random pick-up games of basketball. But a deeper look reveals something more. There are refs, whistles and numbered jerseys. There are fans, coaches and even a working scoreboard. There is organization. These are more than just pick-up games, this is Biola intramural sports.
Building community
The Biola intramural scene is thriving. And it is not just the competition that draws its participants in, according to basketball intramural player sophomore Trevor Miller.
"It's a great way to get to know the people who are on your floor," he said, explaining that it is the community that makes the intramural experience so satisfying.
Intramural staff leader Jenny McMahon has the same mindset.
"I think the draw to intramurals is more than just the sport," she said."It's the community and the chance to play with your friends and maybe relive your high school days."
Organization is also a huge draw for some, especially freshman Stephen Croft, who plays intramural basketball.
"It's cool to just go play some pick-up with friends," he said. "But to have that structure there is definitely an excellent thing."
Intramural sports for everyone
With sports ranging from basketball to beach volleyball to tennis, there is enough variety for all athletic preferences, as well as some branching out.
Students flock to the basketball courts to revisit a favorite pastime, dive knee-first in the sand at the beach volleyball courts just to get a little sun or storm the tennis courts to experience a sport of which they may not be familiar. Even flag football yields sizable turnouts, largely due to the lack of football at the varsity level.
Whatever the reason, it always comes back to community and fellowship that brings the competitors to the playing field and the fans to the bleachers. At a school as fellowship-based as Biola, competitors and fans are not hard to find.
Intramural directors estimate that over 1,000 students and alumni compete in intramurals each year.
Camaraderie is not hard to find
With almost one out of every five students playing intramurals, there is bound to be a supporter or two willing to sacrifice their time to cheer on their fellow students.
Sophomore Benji Sutherland, an outfielder for the Biola baseball team, is one of those fans and he thinks it is not just about the community but about reciprocation.
"They've always supported me in my baseball career and I want to return the favor for them," Sutherland said. "So anytime they have an intramural game and I have the time I love to come out and give them some support back."
"It's just nice to see everybody come out and show a good balance of competitiveness and sportsmanship," freshman Troy Coleman, who plays intramural softball, said.
Following the classic shaking of hands, each intramural sport concludes its games with a prayer, allowing for students to be thankful for the opportunity to enjoy the friendly competition and beneficial fellowship.
"At the end of the day, when we can thank God for the fellowship and for all he's done for us, it's just a great way to cap things off," Coleman said