Celebrating diversity through art [updated]
Biolans celebrate diversity and turn Biola "Inside Out" with large scale portraits.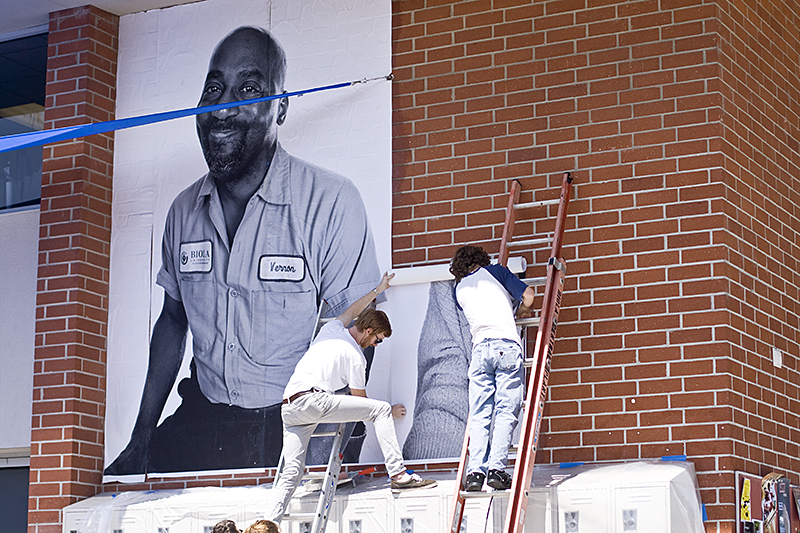 Senior Evan Cassell and Contemporary Photo T.A. Seth Johnson add another portrait to the SUB wall while other photo students paste portraits on the library. Katie Juranek/THE CHIMES
On Thursday March 3, Kurt Simonson's Contemporary Photography class took a spontaneous field trip to street artist JR's gallery in Long Beach. After the trip, the class decided to throw out their old curriculum and turn Biola "Inside Out." Simonson's students were so inspired by JR's work they wanted to bring the concept back to Biola by taking large scale portraits of the community and showcasing them all over campus.
Turning Biola "Inside Out"
During chapel on May 4, Pete Menjares, the associate provost of diversity leadership, invited Simonson and his students to inform the Biola community about the large faces that would soon be pasted around campus. By Thursday, three new portraits were being put up near Eagle's Nest and four more were being assembled at the library. The new portraits were in addition to the three portraits already pasted to steps near the bookstore, bringing the count up to nine.
"We wanted to celebrate the different types of roles people play on campus," Simonson said. "We thought let's try to cover the athletes, the different students and faculty. We ended up realizing racial and cultural diversity is there amongst all the other levels of diversity that this campus has."
Simonson also said the students took 300 portraits, but only 20 or so would be selected to go on display around campus. Simonson's students are very conscious of selecting interesting and diverse photos to showcase, which means they want to include undergrad and grad students, faculty, facilities staff and even President Barry Corey.
Celebrating diversity in community
Simonson and his students expressed that their goal and purpose is to raise awareness that the kingdom of God is visible in the diversity of the Biola community. Junior Clarissa Kenney said the project is important because it raises awareness that the Biola community is diverse but at the same time unified within Christ.
"This project is about helping people see that the stereotypes aren't true," Simonson said. "Just simply showing that art can surprise and delight is a big goal of this but also the diversity celebration is a big goal. We can still find ways to celebrate diversity in a very joyful and inclusive way."
Seeing the face of Christ
Before the beginning of spring break Simonson's class went before the Biola Art Advisory Task Force to recieve permission to execute the project on a larger scale.
"I think it was a divine appointment," senior Rachel McCord said.
Menjares and the task force had been looking for ways to promote diversity and art on campus and the "Inside Out" project was just the thing they were looking for.
"Instead of seeing ourselves in the face of Christ we are able to see the face of Christ in these members of our community," Menjares said. "[The project] should get people to think. It should get us to question and wonder about art … spiritually, we should be reminded we are all members of the body of Christ."
Opening doors for more public art
Not only was Menjares excited about seeing the face of Christ displayed on campus, he also hoped this project would make way for other Biola artists to be inspired to promote their art and diversity on campus.
"I hope it ignites the imagination of artists and other students to want to express themselves and promote diversity," Menjares said. "We are a community. We are a unique expression of God's kingdom."
Menjares said the reaction to the project has been overwhelmingly positive. Simonson stated that some departments are even requesting portraits to be put up on their buildings.
Respecting the project
In reaction to some chalk writing near the bookstore that read, "Oh boy, we get to look at pretentious art majors again."
"Everyone pretty much laughed and said 'That means it's good street art,'" said Simonson, "If someone vandalizes it, it means we're on to something."
Menjares also commented on the project, "I would hope people respect the project even if they don't like it, they need to respect it … respect the students … they have taken this very seriously, their hearts are good and sincere and they want to glorify God through their art."
A glimpse of the kingdom of God
Menjares said he hoped the portraits would last through the summer and into fall so the incoming class of 2011 would be able to get a glimpse of the diverse community they are about to join. Simonson's class also hoped the portraits would last into next year so the diversity of the kingdom of God would be on display.
"Showing the different faces of students, faculty and staff, male and female, and all the different ranges of emotion, I think really shows the vast facets of God's kingdom and just how many faces can reveal his kingdom to the world," Kenney said. "I think that it's really cool we're able to look at the faces of our peers, teachers and staff members and see that joy of Christ being shown to the world."
A large "copy-cat" portrait was pasted on the side of the library next to the four already existing "Inside Out" portraits. Ashley Jones/THE CHIMES
Copy-cat
On Wednesday May 11,a portrait of a cat,which looked very similar to the "Inside Out" portraits, appeared on the side of the library. Simonson stated he worried people would paste copy-cat portraits and he hopes it does not become a problem.
"The cat photo is not officially part of the project," said Simonson, "I want to be clear that we don't promote or encourage any copy-cat street art around campus, but I'm glad that this one is actually quite witty. Now as long as they help take it down when we remove the other ones, then I'll still find it to be cute."