TOMS CEO visits Biola to film promo for new product [Updated]
Blake Mycoskie, CEO of TOMS Shoes, visited Biola University to make an announcement about continuing their one-for-one model in a new direction.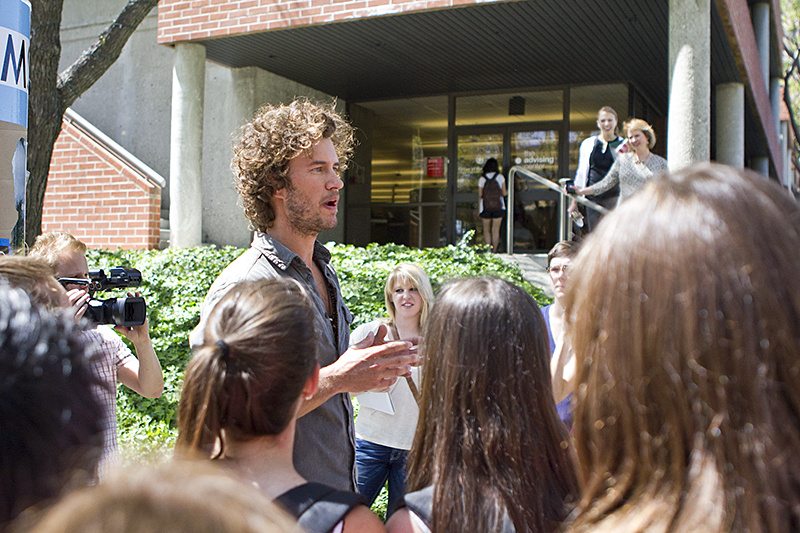 Emily Arnold, Writer
April 5, 2011
On June 7, TOMS will officially launch a new chapter of their company, moving their One for One model beyond shoes — a direction that CEO and creator of TOMS Shoes, Blake Mycoskie said they've been envisioning for two years.
Biola visit is first public announcement
TOMS, which has given over one million pairs of new shoes to children in need since 2006, chose Biola University as the first public area to make this worldwide announcement regarding the next One for One product. Mycoskie came to Biola University on Monday, April 4 to shoot a promo video for this new phase of TOMS which he said will be up on their website by next week.
"It was a great opportunity for Biola to enter into a mutually beneficial relationship with TOMS as a company," said senior Micah Heykoop, 2010 TOMS summer intern.
According to Mycoskie, TOMS wanted to shoot the promo on a local college campus, and seeing as they're based in Santa Monica, Calif. and have some connections to Biola, they chose this university.
TOMS involves students
Last Friday, TOMS asked Heykoop to spread the word around campus. He made a Facebook event, invited his friends, and the news about the event spread.
"I think that it was good that they did their promo at Biola because the students here can connect with the goal and mission of TOMS," junior Bethany Turner said. "It was super meaningful for us because we understand that we have a call to care for those in need and give resources to them. The fact that this popular company came here and included us was special on a really deep level."
Video involves various areas of campus
Approximately 50 students voluntarily gathered by the Fluor Fountain at 1 p.m. to be a part of the shoot. The TOMS crew moved the Biola group from the fountain to the library, broke them up into smaller groups and positioned them at different stations throughout the pathway in front of the library.
Flip cameras and mystery box enhance shoot
Mycoskie sauntered down the path, wheeling what TOMS is calling a mystery box. The Biolans were asked to watch in wonder, start to make conversation with Mycoskie and quickly gather around the spectacle. Mycoskie proceeded to make the big TOMS announcement while Biola students encircled him with wide eyes and open ears.
A few students used HD Flip cameras, provided by the TOMS crew, to film shots from where they were standing that would be incorporated into the promo video. By 1:30 p.m., the group had nearly doubled after students walking by became intrigued and decided to be a part of the action.
Participating students receive free pair of TOMS
After only 10 takes, the filming was complete and Mycoskie made another announcement which surprised many of the students involved. He explained that they will be giving a free pair of TOMS to every student involved. Students will be contacted and given the chance to choose a free pair of their choice, and although these shoes will be given for free, Mycoskie assured the crowd that with each pair a Biola student receives, another will be given to a child in need.
Mystery boxes to be opened upon announcement
Also, the mystery box containing the new One for One product will remain on Biola's campus for the next nine weeks. TOMS will be leaving mystery boxes at different locations until June 7, the day on which the official announcement of the new One for One product will be made and the mystery boxes will be opened.
"Shooting at Biola University far exceeded our expectations," said Justin Herber, creative director hired to oversee the video production component of the next chapter of TOMS. "The faculty, staff, and students were unbelievably accommodating, supportive, and enthusiastic which made it the ideal place to shoot the promo."