AS election results come in early, SMU run-off leaves suspense
AS elections wrapped up Tuesday night, with John Drebinger and Janine Marderian winning by over 50 percent. The SMU elections continue in a run-off on Wednesday, between Thilini De Visser and Chris Johnson.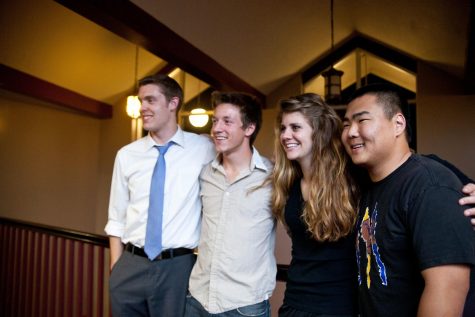 John Drebinger and Janine Marderian (center) celebrate with their campaign manager, Ryan Freudenburg (left) and social media and web manager, Matt Fier (right.) | Kelsey Heng/THE CHIMES
Junior John Drebinger and sophomore Janine Marderian weren't exactly prepared for a victory message before 8 p.m.
Early call surprises winners
But, with a call from current president Lizzy Neely, that's precisely what they got. The results weren't supposed to be out for at least another two hours, and they were thoroughly expecting a run-off, given that there were two other teams — both of which they said were well-qualified. In order to avoid a run-off, Drebinger and Marderian had to win more than 50 percent of the total student vote. They had about 650 votes total.
SMU race remains tight and results in a run-off
The numbers for SMU's presidential race were a lot tighter. Juniors Chris Johnson and Thilini De Visser will have a run-off tomorrow, with voting between 10:30 a.m. and 5 p.m. Students will be able to vote at the same place where voting took place Monday and Tuesday. Luke Payton, current SMU president, said the race was a "tough call."
Missed call increases suspense
Drebinger said that at the time he received the call from Neely he was at Joe's Sushi with his parents. He called Marderian, who was in her room doing homework, and together they tried calling Neely, but couldn't get a hold of her because she was in class. After nearly twenty minutes, Marderian said they were able to talk to Neely and get the results.
"She told us and we freaked out," said Drebinger. "It was great."
Other candidates respond positively
Presidential candidate junior Tomas Gustafson was equally surprised by the early call, saying that Neely contacted him around 7:15 when he had not expected to hear from her until sometime between 8:30 and 9 p.m. Junior Alexis Hinton said that when she heard from Neely she immediately "called and congratulated John and Janine." Gustafson said they ran a great and clean campaign and there is no bitterness.
"I really respect John and Janine," Gustafson said.
Despite their loss, Gustafson said that he plans to be "a student leader without a title." He said that the "the big thing is awareness, and we need to make leaders aware."
Junior Kelsey Seitz, presidential candidate, responded to results by saying that, "in this election, the students couldn't have chosen a wrong candidate." She remarked that all the candidates were passionate for their platform and stated that each strove to serve the Lord. Seitz said that she will be praying for Drebinger and Marderian, and she is excited for what the new year will bring.
"This was such a close race," said Seitz, who was excited to see Biola raise up such great candidates.
Winners celebrate before buckling down to work
Drebinger and Marderian had a celebration scheduled at Stewart Hall at 9:30 p.m. with root beer floats, just in case. But, there isn't much time for celebration. Drebinger said the work has just begun.
"We get to start doing everything that we've talked about for four months," Drebinger said. Planning for the campaign and for next year began all the way back in November. He said it's a "good feeling," because "you get to move forward and it's no longer sitting with uncertainty."
Work begins with hiring new AS staff
After Drebinger and Marderian talk with the winning senators, they'll be starting the hiring process for the rest of AS.
"I'm excited to get the ball rolling on things, because the anticipation has been here for months, and now things can get started," Marderian said. "The things that we've thought and the things that we've talked about actually have a chance to happen now and we feel really supported and affirmed by the Biola community."
"It's good to have that affirmation that, 'Yes, this is what people want,'" and then we can move forward with that," Drebinger said.
"But tonight, we celebrate," Drebinger exclaimed.