Dark Comedy and Deep Issues at Home "In Bruges"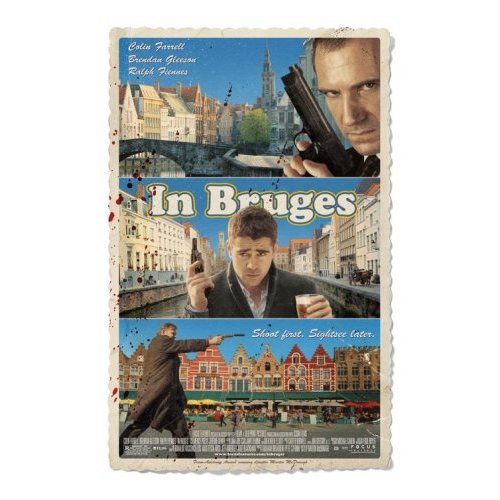 Celebrated playwright and Oscar-winning director (for his short "Six Shooter" in 2006) Martin McDonagh continues to impress with his interesting storytelling ability. In his debut feature film, "In Bruges," McDonagh shows considerable filmmaking talent in crafting a story that is both darkly humorous and intensely dramatic.
"In Bruges" tells the story of two Irish hit men, Ken (Brendan Gleeson) and Ray (Colin Farrell) who travel to Belgium to hide out in the small medieval village of Bruges. Ken takes a liking to the place, while Ray, feeling remorse over a hit in which an innocent life was taken, is miserable. The two manage to upset their hothead boss, Harry (Ralph Fiennes) who goes after them, and the action, drama and comedy are ratcheted up as the story progresses, and the stakes get higher.
While marketed as a comedy, the comedic moments are of a very dark brand. McDonagh channels the ideas of extremely dark comedy and drama that are present within Irish art and literature to create a film more dramatic than expected. Farrell pulls out his best performance to date and plays the spectrum from hilarious to heartbreaking with ease. Gleeson reinforces his great reputation as a solid supporting player by playing his character with the fervor and depth he has shown throughout his career. Fiennes, while menacing, brings an element of comedy that fits perfectly into the dark humorous tone.
"In Bruges" attempts to explore some interesting themes as well. Strong implications of the Catholic theology of sin, guilt, purgatory and hell enhance the story and create an extra layer to ponder as the film progresses. McDonagh also includes many fanciful elements and symbols prominent within Irish folklore that give the film a distinctively Irish feel, making it richer and more complete.
"In Bruges" does have a few imperfections. Some of the transitions between comedy and drama are awkward and too quick. The editing and dialogue don't always meet expectations, but most of these are minor issues. The film may not be for those who have a hard time stomaching films with heavy language and violence, but it is also a fun, intense and interesting ride that leaves the audience waiting for this director's next film.
"In Bruges" is rated R for strong bloody violence, pervasive language and some drug use.