"Set us ablaze:" Missions Conference 2011
Throughout Biola's 82nd Missions Conference, we'll be updating the site with blogs and photos, which you can find here.
Humble closes conference with practical advice
Alison Bognuda
Friday, March 18, 2:00 p.m.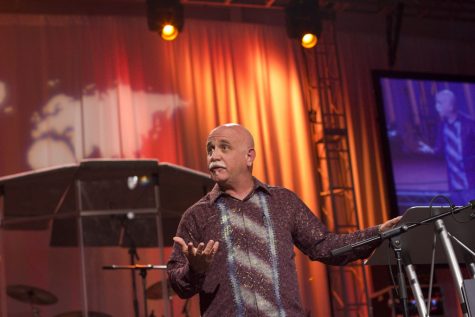 Photo: Katie Juranek/THE CHIMES
After an amazing night of God's presence bringing conviction and freedom, I walked into Chase Gymnasium for the final session of Missions Conference with high expectations. On my way over the gym this morning, I ran into last night's speaker Mark Parker and was able to thank him for ministering to us. As I arrived in the gym, I was pleasantly surprised to see so many students in the gym. Usually, the last session on the conference renders a pathetically small crowd, with most students choosing not to attend due to already fulfilled conference credits. This year however, there were more people than ever before.
This year's band, The City Harmonic, are an amazing group of musicians, and I enjoyed their music as they led us in singing about going to the mountaintop and seeing God's glory.
Kevin Humble shared about a number of important lessons that are essential to living a life "ablaze" for God. One of the major points that stood out to me was his emphasis on the importance of alignment. He reflected on the messages earlier shared by the previous speakers emphasizing the importance of obedience, and then extended the message by sharing that obedience leads to alignment with God and his Spirit and his will.
Humble, who is the father of Biolans Justin and Fin, brought practical application to what Reverend JFK Mensah and Mark Parker preached. I really enjoyed how straightforward and logical Humble's message was. It's not that the other speakers weren't, but Humble's approach to the theme "Set Us Ablaze", set in Isaiah 64:1-2, was rooted in the stories of recent experiences he had right on the missions field of Muslim-populated islands of Indonesia. He shared of the power of the gospel transforming Muslims lives, and the need we Christians have for that same gospel in our everyday life.
One of my favorite stories was of a Muslim man who came to Humble and said that he was 70 percent convinced of Jesus. Shortly after, he said he was 80 percent sure, and then 90 percent sure. Finally, Humble shared, the man came up to him and said he was 100 percent sure that Jesus was the savior, and he then accepted Christ as his savior.
The most incredible part of the closing session was when Humbled opened up the platform again, as an extension to Parker's ministry last night, and asked students to come up and make declarations beginning with "I will…" Student after student came up and committed publicly to the Lord that they would no longer be afraid, that they would go to the nations, that they would surrender everything to the Lord. It wasn't hyped up; it wasn't overdone. It simply students being open, being raw, and being bold. It was truly beautiful.
---
Parker calls students to repentance
Alyssa Alvarez
Thursday, March 17, 11:30 pm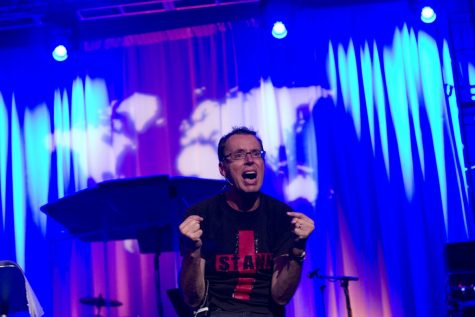 Photo: Katie Juranek/THE CHIMES
From worship and dancing to the rawest altar call of this Missions Conference yet, the session tonight was unforgettably changing and charging, filling and overflowing students of Biola including myself with the Spirit and speaking a passion into our hearts, setting us ablaze for God.
Session opens with various forms of worship
Tonight's session opened with the usual yet still spectacular performances of worship and dancing, but this time was followed by a girl introduced as "Gabby from SMU" reciting soulful rhymes preaching the truth of Christ's love and life-changing implications of accepting Him. She spoke "This Christian thing is more than just 'What Would Jesus Do?'" The people loved it, and passion from previous sessions seemed to be coming to a head in the night session.
Introducing New Zealand native Mark Parker was Daniel Han, a graduate of DTS with Youth With a Mission in New Zealand and friend of Parker. Sharing a bit of his testimony and how he came to decide to participate in YWAM, he addressed all the "pot heads" in the audience. "Ain't no high like the Most High," he said. But these beginning speakers were only brushing the surface of the truth speaking and Kingdom-bringing love that none of us knew would be taking place later.
Parker's teachings permeate hearts
Though Biola may have grown accustomed to Mark Parker's teaching by this point—his jumpy and loud exclamations, endless pacing and scattered messages that somehow always point back to the cross—we were still affected by every word.
Opening with a song called "Savior of the Broken Heart,"—and demanding the sound tech start the song over because the lyrics weren't on the screen—Parker dove into his message, preaching on salvation and what a real thing it is for us, to us, and beyond us because it is the work of God. The message was good, but the end of the session was what stood out.
Altar call breaks traditions
He did not do an altar call the way we see it. He did not specifically ask for those who wanted to receive Jesus to come to the front in order to be saved. He preached that salvation is constant repentance from who we are and who we make ourselves and turning to the God who made us, who forgave us, and who uses us for his own purposes.
He implored us to turn from the lives we have for ourselves, to get the focus off our own lives, and to realize that our life is a gift that God gave and could take away if he so chose—but that wouldn't matter either because then we would be with him in glory as he promised us. There was no ordinary altar call here tonight. "When I do an altar call," Parker said "I want you to be altered."
Students repent aloud
He called those forward who struggle with sins of the flesh and sins of the heart and told us that repenting out loud isn't what everyone needs. It isn't about looking good in front of others, or about doing what you think will impress anyone. He called those forward who had never before confessed their oppressions and addictions and sins to anyone who could help them through it.
Lines and crowds of people left the bleachers and their chairs in order to confess their sins to a crowd when they had hardly confessed them to themselves. The place flooded with repentance and the truth began to permeate the air. Prayer broke out, clusters of hands lain upon those in bondage, and light shining in the depths of those lost in their dark sin was abolished by the power of God, which is unrivaled by any other force.
It's not about me
Looking around for people who needed prayer, realizing that none of this had anything to do with me or who I am, but what God was doing and how he could move. How radically he could transform hearts, and I can say right now that never have I ever worshipped God is a more selfless manner because He reminded me tonight that life is not about me. None of it is about me and what a relief not to have to worry about myself.
God is doing a work in this place, and I have seen in my friends and my hallmates oppression unlike any our floor has faced before. Satan is attacking our weak spots so that we become useless to God and the mission field, but I tell you now there is nothing our God cannot do, and only the power of Christ could have done anything like what I saw tonight. Sinners repent. God is glorified.
Hearts are changed. Hearts seek change. My prayer is that when we are here, alone in front of our computers, sitting in the quiet, and left with nothing but God and our sinful selves, that we remember the God to whom we were giving passionate worship tonight is the same God who sits with us in the quiet. My prayer is that feelings do not become something we rely on but that the fire we ask for to ignite us would ignite our very souls, so as not to be fickle and manipulated easily by loud music and bright lights. I pray that we remember who we are after this, who God made us to be, and that this feeling isn't a summer camp moment but a life decision of repentance. This is my prayer. Pray it with me. And praise God.
---
Mensah lights a fire in his listeners
Joseph DeClercq
Thursday, March 17, 12:00 p.m.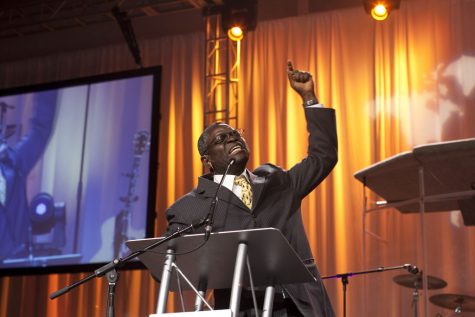 Photo: Katie Juranek/THE CHIMES
JFK Mensah brought the Word with passion in the 9 a.m. session on Thursday. His attitude toward the Word was perfect for the the topic of the conference and his motive clearly was to set the hearts of his listeners ablaze. Beginning with some things God had laid on his heart, JFK and his wife poured out Scripture readings to go along with his message. He carefully expressed a definition of what the theme "Set Us Ablaze" should really mean.
"The manifest presence and power of God, in our daily lives, as we serve him," JFK said, is what we need to be set ablaze for Christ. "An insatiable hunger and thirst for God," is what it means to really have a passion for God and His Word.
Keeping the fire lit
Mensah continued on with his main points, but all I kept hearing was a single sentence he shouted, "God has planted a fire in us that must not go out!" Being set ablaze is the only way we can make our lives wholly for God. No more lukewarm Christianity, but instead, an intentional decision to put Jesus first. The life of a full-time student is a tough one. Often it means working the equivalent of 50-60 hour work weeks, but we cannot let the business of academics affect our spiritual life. "We have been charged to keep the fire, keep the zeal," Mensah said.
Love for God tied to obedience
Mensah strongly pushed home the importance of obedience to God's commands, "Discipleship involves obedience because, even though he was the Son of God, Jesus was obedient." Our attitudes and character, and, therefore, our actions, are results of our obedience. This zeal, and fervor is not just for our own benefit though. Mensah listed off several African nations and their percentages in terms of Muslim population before he expressed God's heart for missions.
Missions in the right context
"God's heart is a heart of compassion for the lost and unsaved," Mensah said before he made a bold statement regarding our involvement in missions. "You can be a Christian, but miss God's heart," he said. God calls us into missions, we don't choose to serve and be missionaries. Further, Mensah said, it is disobedient to go into the field overseas without first receiving the call from God because you may be intended to do work in this country.
Praying for fire
Before Mensah closed the session in prayer, he said two things that especially stood out to me, "You need anointing power from heaven. You must be tired of a powerless Christian life," he said. And "We need fire, we need power, we need might, we need the supernatural, we need God," he thundered.
We need God. Don't let the comfort of Biola or America keep you from experiencing the fullness of God's power in your life.
---
Focus on discipleship more important than conversion
Amy Seed
Wednesday, March 16, 10:30 p.m.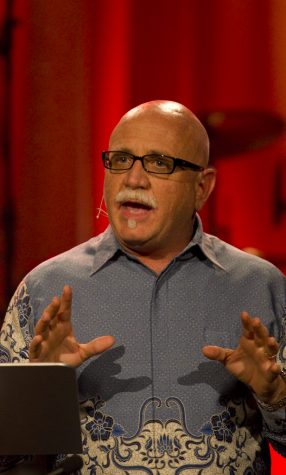 Photo: Job Ang/THE CHIMES
Discipleship is what sets hearts ablaze for God. It spreads through communities like a flame that cannot be ignored or diminished.
Kevin Humble focused on discipleship during the third session of the 2011 Biola Missions Conference. As a missionary to Indonesia for the past 17 years, he has witnessed how community influences faith.
Discipleship begins with community
Most of the stories he shared during the conference involved new Christians in Indonesia starting study groups for their families and friends. They began to share the ideas they learned and witnessed from Humble with people in their communities. And as they did, the Good News spread.
"If we're followers of Jesus, we make disciples," he said. "If we're followers of Jesus, we have disciples."
Sharing the gospel intentionally
When Humble stated this, it convicted me. Immediately. I am a Christian, but where are my disciples? To whom am I showing the love of Christ? Where is the impact I should be making on those outside my faith?
"There are lots of workers, but are we really in the harvest?" asked Humble.
I have friends of differing religions and friends who claim no religion at all. We have discussed faith, sometimes at length, and I have tried to plant the seed of the gospel. In my efforts, though often less than assertive, I have never converted anyone to Christianity.
The process of conversion
But Humble made an important point about conversion that I had never heard stated so clearly until now. He gave discipleship priority over conversion.
I always thought conversion came first, and once someone became a believer, then they entered into discipleship with an elder. This idea has changed the way I view ministry and the way I will minister to people in the future.
Humble said conversion is a process. Discipleship comes first. It is when people see Christ in the lives of believers, hear the Word of God and begin to apply it that their hearts are set ablaze.
It's not about making converts, it's about becoming a disciple of Jesus, Humble said. His call for Christians is to disciple others in the same way in which they should disciple others.
Discipline of application
He also presented a way to revolutionize how we do Bible study in our churches. It involves discipleship. Many Christians are guilty of attending a Bible study and leaving with no application. They were likely paying attention, but they do not set out to share the message with people they know. And so, the message is forgotten.
Humble said a better way to do Bible study is to initiate a discipline of application. This means deliberately asking others what the message means for their lives and how it challenges them. This is the beginning of discipleship and what it means to obey God .
"A movement doesn't start mature," said Humble. "It starts in our own hearts. It starts with us."
Let that quote sink in, and allow it to last longer than just this week. Let it change how you view missions.
---
Mensah, ablaze for God, is perfect start to conference
Amber Amaya
Wednesday, March 16, 12:15 pm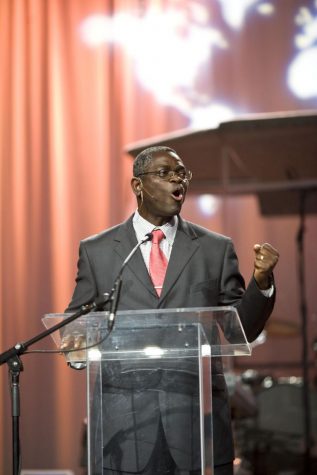 Photo: Kelsey Heng/THE CHIMES
Wow. What a perfect way to start Missions Conference 2011. How appropriate to have JFK Mensah , a man who is ablaze for God, speak about being ablaze for God.
The parade of world flags was a very appropriate start to Missions Conference. I felt especially moved by the prayer time for Japan. Though Biolans are easily engulfed by the "Biola Bubble," the prayer time caused me to make a "real life" connection between current world events and "Set Us Ablaze." Also, how beautiful is it to hear people praying and praising God in different languages?
JFK Mensah…I feel like I can't supply a justifiable description of his zeal and excitement for God.
Personally, I felt challenged by Mensah's call to be ablaze for God. Mensah's comment that being born in a garage does not make you a car as much as being born in a Christian home does not make you a Christian really struck a chord with me.
I've grown up in a Christian home and in a solid church and yet I feel that growing up in church is more dangerous than becoming a Christian at a later age because it is extremely easy to grow complacent. I have personally struggled with growing complacent in my relationship with God. Recently God has been working in my heart and making me miss being in a close relationship with Him.
Mensah's call to be ablaze for God and his comment that we should be like Jesus, having a glow about us, to the point where people just have to recognize that you are in the presence of God, really challenged me.
Missions Conference 2011 couldn't have come at a more appropriate time for me. In calling me back to a close relationship with God, He has brought me back to another first love of mine, which is missions. During high school I had an opportunity to live in Ecuador for almost a month, working with orphans, and during that trip God showed me He wanted me to become a journalist in order to tell the stories of people whose stories would not normally be heard.
Mensah's comment that going overseas does not automatically make us ablaze for God really challenged me to take this time at Biola to grow and work on my relationship with God first. That way, when I do have the opportunity to go overseas, people will have to notice that I am ablaze for God because I am constantly in His presence.
I feel such an excitement for the rest of Missions Conference 2011 and what God will challenge me with and what He will show me. I hope that my fellow Biolans don't live complacently and see Mission's Conference as just a break from the normal classes. I challenge you, just as God is challenging me, to be actively working and growing in our relationships with God. I hope by the end of this week the world can see Biolans ablaze for God.