Christmas: A season of giving
President Corey reflects on the spirit of the season and ways in which the Biola community is grasping the true meaning of Christmas.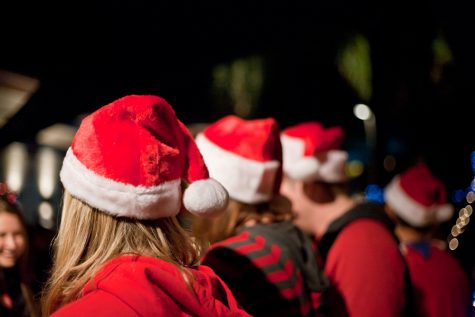 KELSEY HENG/The Chimes
A few weeks ago, I was at a church in Minnesota that is pastored by a friend of mine. At the end of the service, he said today we'd be doing something different. He asked that an offering plate be placed at the back of the sanctuary for the needy and the ministries of the church.
He encouraged worshippers not only to give, but also to take. If they had a dire need or knew of someone who did, the plate would be there for the rest of the day and no one would ask anything of anyone who might reach in to take some money and meet a felt need. I had not seen this done before and was very touched by that gesture.
It is what Paul talks about in Galatians in the middle of a discourse on salvation coming by the grace of Christ — Immanuel: God with us — and not by works. Paul says in Galatians 2:10, "All they asked was that we should continue to remember the poor, the very thing I was eager to do."
The Biola community gives back
While we all have a long way to go in how we live lives of selflessness and charity, I want to say how proud I am of the Biola community for the ways in which so many have tried to be the extension of Christ to those who are living without basic needs.
Take for example our nursing students who visit the rough streets of Santa Ana every Thursday, where they set up a free clinic on the sidewalk. There have even been times they've washed the feet of those without homes. Or Torrey Academy, who reached out to the nearby community of Compton by beginning a reading group for high school students.
Biola students also helped the Teen Challenge ministry by raising money to provide full Thanksgiving dinners for underprivileged families in the Lynwood and Compton areas. Our Brown Bag ministry is hosting a Christmas banquet for the homeless of Long Beach whom they serve on a weekly basis.
The Tijuana Orphanage outreach is holding an adopt-a-child program so that Biola students, staff and faculty can sponsor a child by purchasing gifts based on his or her individual wish lists.
Departments around Biola are collecting toys for KidWorks, an organization in Santa Ana that sells the toys for 10 to 15 percent of the cost, so parents can make affordable purchases but maintain their dignity as they shop for special items for their children.
And at the Christmas Tree Lighting on Dec. 3, Associated Students collected blankets that students delivered to the homeless of Skid Row that night. Reflective of this same spirit, I am pleased that alumnus Andy Bales, CEO of Union Rescue Mission, will be our commencement speaker in a couple of weeks.
Continuing to remember the needy
As we head into the Christmas season, I am humbled by those here at Biola and throughout the world who continue to remember the poor.
As Christ gave of himself for our sake, so also should we give of ourselves for the sake of others — our brothers and sisters, our neighbors, our enemies and our friends.
Motivated by grace and the death-defying, self-denying love that entered this planet with a baby in a manger, let us strive to be people who constantly give, serve, and love like Christ did.
May you each have a very blessed Christmas, and a happy New Year.