26th annual Christmas Tree Lighting delights
Biola commences the Christmas season with its annual tree lighting, which draws in community for a celebration of Christ's birth.
Hang on for a minute...we're trying to find some more stories you might like.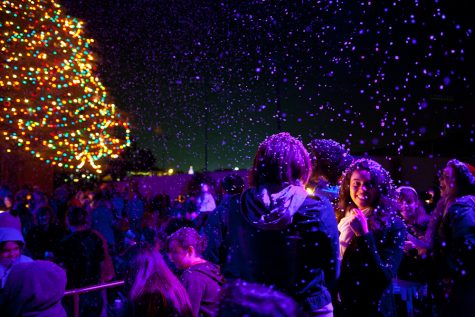 Snow machines added a magical element to the traditional lighting of the Christmas tree at Biola's 26th annual Christmas tree lighting event Dec. 3. KELSEY HENG/ The Chimes
"Five, four, three, two, one." The chant rang out over Biola's campus Friday from the crowd of 2,000 people who overflowed the chairs set up in front of Crowell Music Hall and formed a solid pack stretching between the Caf on one side and Chase Gymnasium on the other.
The screen above the stage showed a soldier standing in front of an army tank in bright desert sunlight. From his base in Afghanistan, Adam Derentz, a 2007 Biola grad and member of the school's alumni board, had the privilege of leading the crowd in the traditional countdown to Biola's 26th annual Christmas Tree lighting.
Rick Bee, senior director of Biola's alumni & friends development, pushed the green button, and the lights wrapped around the 50-foot tall fir tree flickered on. Snow machines mounted above the stage roared to life, fulfilling Bee's cryptic weather prediction in his earlier welcoming address. The band struck up "Let it Snow" as the audience shouted in surprised excitement. As fake snowflakes fluttered down, a crowd of children quickly formed, clapping their mittened hands in delight and holding their lighted candles aloft to see if they would survive.
Lighting kicks off the Christmas season
The magic of the Christmas season has been ushered in for the diverse crowd who came to this year's tree lighting. The clear, crisp Southern California evening provided the perfect setting for an early celebration of Christ's birth.
"This is better than Fashion Island," said Karyn Ehrenffeldt of Downey, Calif. who attended with her husband, Mike. "This is Christ-centered, so it's neat."
The Fragrance, Biola's popular student band, led the audience in creative arrangements of traditional Christmas carols. Between songs, speakers including President Barry Corey, AS President Lizzie Neely, and members of the alumni board approached the podium to read the Christmas story and lead the audience in Advent prayers.
An eight-year-old's first Christmas
The lighting was especially meaningful for the Thoennes family, who adopted their eight year old daughter Paige from Taiwan shortly after Christmas last year.
"It's her first experience with Christmas," her dad Erik said. "First time seeing anything that looks like snow. First time hearing the Christmas passages."
Paige was lost in the crowd, enraptured by the falling snow. "Snow!" she exclaimed, stretching out her arms and sticking out her tongue. "It's snowing! I want more on me!" she squealed before hopping down to go stand under another blower.
Lighting impresses prospective students
"It was wonderful," high school senior Jennifer Shaheed said about the lighting. "It makes me want to come here even more." Shaheed, who was visiting Biola for the third time, has submitted her application to come to Biola in fall 2011. She said she has found it easy to strike up conversation with current Biola students.
"It's really inviting," her friend Sarah Mcalpine chimed in. "[Biola] feels like a family."
"We seriously call twice a week," Shaheed said, saying she is paranoid about not getting in. "I have to come here!"
Kids thinking ahead
High school students are not the only ones thinking about making Biola their college choice. "I think it's a pretty amazing place," eight year old Chloe Jaeger said, whose smile revealed a missing front tooth. Jaeger, the youngest in a family of nine from Los Alamitos, Calif., is already involved in Biola Youth Theatre and comes to campus often to visit her sister, a junior.
"I want to come here too," her 12-year-old brother Willy chimed in. "Is there something for being a cop?"
At age 7, Jasmine Montalvo of Buena Park, Calif., also has her future planned. "They know they want to come to Biola," her mother Ileana said of her two daughters age seven and nine. Jasmine and her sister were hopping around in the shadow of a snowflake projected on the concrete from a spotlight mounted on the corner of the Student Union Building.
It is their second time attending a Biola Christmas Tree Lighting. "It was humongous," Montalvo said of last year's tree, throwing her hands wide to demonstrate the size. Montalvo's brother is a junior business administration major at Biola, and plays on the soccer team. "When they come to soccer games, they want to come here," said Ileana. "I'm really happy with the school."
2010 lighting a success
Event coordinator Deannah Basel was pleased with the evening. It was her third year organizing the event, a beloved tradition she remembers from her own undergraduate days at Biola.
"I wouldn't have changed a thing," she said about the evening. "It was beautiful."