Sleeping At Last releases innovative EP series
Sleeping At Last is two months into their EP project where they will release three new song every month for a year.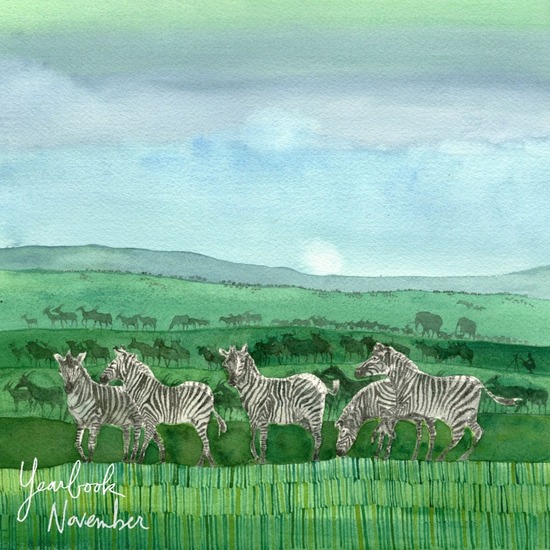 This summer, the Illinois band Sleeping At Last (SAL) sent out a newsletter explaining that they'd be embarking on an exciting project called Yearbook. They promised to write three new songs to be released independently as annual EPs every month for a year. They explained that the music industry is becoming more about business than an art. On their blog, the band quotes Hans Zimmer, who quit his rock band to pursue film composing. Zimmer observed there was too much talk about making music and not much writing, so he put himself in a situation that forced him to produce the art he loved. The band was inspired to do the same.
SAL strives to say important truths in a simple and poetic way, paired with uniquely beautiful melodies. They mostly succeeded on their previous albums––"Ghosts," "Keep No Score," and "Storyboards."
After listening to the October EP, it's evident they've kept their stripped-down sound which characterized "Storyboards." Lead vocalist Ryan O'Neil has a startlingly delicate, near-falsetto voice that suits the style perfectly. Like billows of steam on a cold night, his delivery places his words subtly in the listener's conscience, yet fans of the band's older material know he can belt out notes, so his vocals feel masterfully controlled instead of weak. O'Neil has a romantic and highly-sensory writing style, and while such an approach could easily come across as mushy and overly poetic, O'Neil ends up with quotable and gorgeous expressions of life that are difficult to capture, as well as revelations from his faith in God.
"October" opens on a whisper
On the first track "Homesick," a ghostlike hum echoes behind light strums on an ukulele, an instrument the band has recently favored, and O'Neil opens the EP in just above a whisper: "You spend your whole life just to remember the sound/ when the world was brighter before we learn to dim it down/ call it survival, call it the freedom of wills/ where breath is borrowed, our compass needle stands still." Although these songs were written in a short time, they still attain their goal of capturing universal human essences in as little as two or three lines. In a yearning tone, O'Neil's offers some advice against a world that shuns vulnerability and childlike attributes, "Cry wolf, cry mercy. Cry the name of the one/ you were raised to believe. Cry heart, cry yourself to sleep. Cry a storm of tears/If it helps you breathe."
The foot-stomping "Next to Me" features Stacy DuPree of Eisley on vocals, and while the song is based on upbeat rhythm and major chords, the choir of her layered voices keeps the song as haunting as the last. The song is also driven by an unusual scale-tuned instrument called a McNally Strummstick, which sounds like a ukulele.
The last track, "Watermark," is a minimalist, metaphoric tale of a child "carved out of the sea." It begins with just an unearthed piano melody O'Neil wrote years ago, and those ebbing notes are joined later in the song by strings to paint a musical coastline.
"November" explores a range of themes
The November EP begins with the warm and pulsating "Bright & Early" and the temporary return of kit drums comes as a welcome surprise, although they are very light. The dreamlike song evokes some kind of childhood carnival soundtrack, evoking the youthful desire to be safe from pain, "In the end I'm told, it taught me everything I know/ that the wreckage left behind will somehow make me grow/ but why couldn't I have been safe from the start/ soundly asleep?" In the next line though, O'Neil rejects this ideal and embraces life's difficulties, "the warmth of blankets, makes me nervous/ I'd rather catch a cold."
"Emphasis" is a careful look at death, and after the initial confusing sadness, O'Neil concludes "death is a cold blindfolded kiss/ it is the finger pressed upon our lips/ it puts and unwanted emphasis/ on how we should have lived."
The final track called "101010" tackles some very interesting ideas. The words fit slightly awkwardly in the melody, which is rare for the band, but the creative production does entertain the imagination of what musically may come in further EPs.
EP series a success so far
This band puts itself out there more than most–– they keep an active extensive blog on the making of their songs and personal diaries. But more importantly, they've decided to put out music and live to their fullest. It's a brave move to take a different step in their role as artists, and thankfully for us, we'll get to enjoy their journey for this next year.