So much more than donuts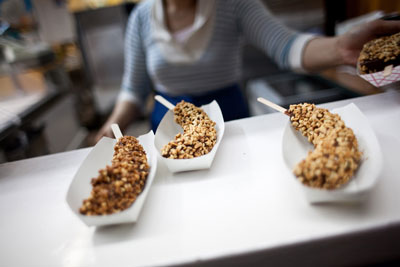 Posted April 15, 2010

Friday night I found myself yet again in the Newport Beach area, meandering down the brightly lit streets of Balboa Island and feeling ready to eat something sweet. It was my first time being on Balboa, and I was unaware of the ever-so-popular "frozen banana" and "balboa bar" hype. The concept of a frozen banana, however, is not foreign to me due to the incredibly informative show "Arrested Development."
I was always intrigued by the looks of a frozen banana buried in chocolate and salty nuts, but never daring enough to go and eat one. This all changed Friday night, and I experienced my first frozen banana. Delicious, savory, sweet — all words that come to mind when I recall that beautiful first bite outside of Dad's Donuts. The title of the shop itself is a bit confusing. Although there are donuts involved, most locals and tourists come for the frozen banana's and balboa bars.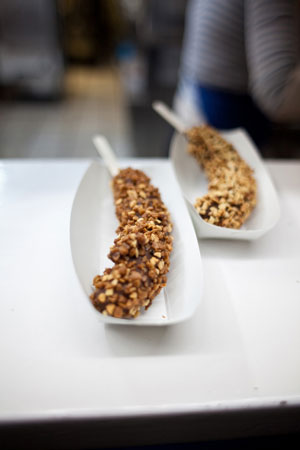 The shop actually has a large variety of things: ice cream, donuts, shaved ice, coffee drinks and frozen bananas. There is an inside shop where you can buy the baked goods, and there is also a window facing the street, towards the sidewalk, that people can walk up to and order which topping they want on their banana. You can get nuts, chocolate, coconut and even an interesting Heath Bar, butterscotch combo called butter brickle (I ended up getting this one, and it was outstanding!).
Overall the experience was a memorable one. Walking down the main street and people-watching while strolling with a butter brickle frozen banana equaled a brilliant Friday night. The goal of going to Dad's isn't too complicated: go and get a frozen banana. Say that you tried it, and check it off your bucket list. It is worth every bite.
---
Pastries aplenty at SusieCakes
---
Posted March 22, 2010
It is officially spring on the calendar. The temperature is rising, and the beach is starting to take priority for many to-do lists. If you find yourself perusing downtown Newport Beach, hungry and in need of sugar after a hardworking day of tanning, look no further, because Susie Cakes bakery shall come to the rescue.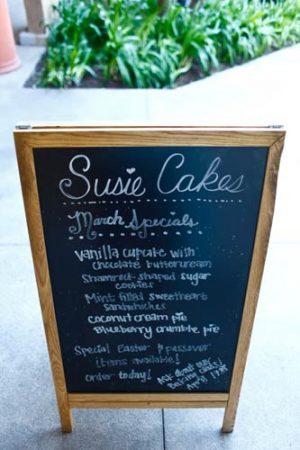 This adorable little all-American bakery was recommended to me by a local Laguna sweet-toothed gal who dared to say that this bakery is better than Sprinkles (the cupcake venue from post one). I took this jab personally, and therefore had to investigate the situation for myself.
SusieCakes, similar to the style of Sprinkles, is quaint, simple and cute. Both offer delicious cupcakes, and both are in Newport. The comparison, however, was quickly resolved when I realized that it was truly not fair to compare the two venues. One specializes in simply cupcakes, and the other offers a large variety of baked goods — cupcakes included. They are in two separate leagues, and they are both good at what they do.
SusieCakes offers cupcakes, cookies, pastries, pies and specializes in beautiful homestyle cakes. They are simple and delicious they are not flashy or aesthetically decadent in height or size, but they are baked with a love you can taste. The shop offers slices of cake if you don't want to spend the $33+ dollars, and portions are aplenty (slices are $5.50). The cupcakes are a quarter cheaper than Sprinkles, landing at $3.00 a pop.
Within the store itself is a counter on the left hand side dedicated to viewing three books filled with photos of specialized cakes for weddings, parties and just about any type of celebration you can think of.
Overall, the bakery trip made for a good afternoon in the Newport area. So the next time you find yourself in the Newport Beach area, I would highly recommend SusieCakes as a pre or post pit stop to the beach.
---
Late closing time, free Internet make Cake House ideal for homework
---
Posted March 6, 2010
Hello fellow sweet-toothed friends. (Thanks for coming back around.) This week's featured go-to spot is a place that I proudly frequent at least twice a week.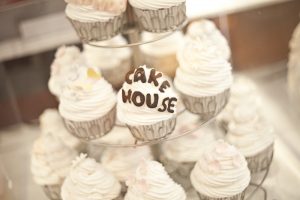 The Cake House, located approximately 2.5 miles from Biola, is a unique combination of bakery, coffee shop and dessert venue -— all mixed into one fabulous location. I first fell head-over-heels for this place when I was without Internet at my apartment. I was desperate, and Cake House saved me. One of the greatest perks of this shop is that there is free, fast internet (tip: the password for accessing it is their phone number, found on their bright orange business card).
Another perk is that they are open between the hours of 8:00 a.m and 11:00p.m. everyday. I have found that it is generally quite busy at night —- business meetings and social gatherings occur late into the evening. It is a good spot to do homework during the day, but please beware of the TVs located in the back of the shop. The music can be extremely catchy, and you might find yourself dancing in your seat without realizing it.
I am a firm believer of consistency: when I find something I enjoy, I stick with it. I have a hard time branching outside of a menu or ordering something new. The Cake House is no different in this situation: I always order a blueberry Danish and a vanilla latte. The pastries are extremely sweet, always with fresh fruit. (Besides blueberry, they have an awesome kiwi Danish, as well as a strawberry one.) The prices are reasonable, and the pastries are on the cheap end (blueberry Danish priced at 1.75).
Cake House has a good selection of teas, house coffees, pastries and baked goods to go. They even have a mini fridge that stores creamer and milk -— unfortunately there is no soy. The left half of the shop is dedicated to breads and unique Korean baked goods. Further into the shop, on the left hand side, is a beautiful display of china encased in a large glass cupboard. Items for sale include hand painted tea sets and mugs, but they're mostly fun to look at.
Now, enough descriptive rambling: let's get down to the facts.
1.Cake House has five locations -— 3 in L.A., 1 in Stanton and 1 in Buena Park
2.Free internet and public bathroom
3.Open until 11:00 p.m. (good for late night outings)
4.Plenty of seating, including booths and tables. (There are two tables outside as well.)
5.There is a giant white, layered wedding cake in a glass case that is extremely fun to look at it and wonder if anyone will actually eat it.
6.Cake house has a good variety, whether you're looking for shaved ice ($6.00), aesthetically decorated cakes ($4.00) or pastries ($1.75).
7.You will have to figure out the rest for yourself—enjoy!
---
Sprinkles: It's so worth the $3.25
---
Posted March 1, 2010
Meander into the world of boba, frozen yogurt, puppies in purses, sunshine every day of the year and cupcakes.
You have now arrived in Southern California. Welcome. I am from the East Coast — Boston, Mass. to be exact (20 minutes away to be more exact).
I was introduced to the concept of paying a ghastly fortune for aesthetically pleasing confectionery items when I came to Biola, and I have not turned back. Sprinkles Cupcakes quickly became a high priority on the list of favorites. Although this American-based bakery is widely popular in the state of California, its Web site informs faithful cupcake lovers that the company's location expansions include New York, Tokyo, London, and Paris. And yes, dreams do come true — they are opening a location in Boston.
This rapid-growing bakery strictly serves cupcakes, providing the customer an array of twenty-four flavor options. The classics include red velvet, black and white, vanilla, vanilla milk chocolate and dark chocolate (all of these staple flavors are served everyday of the week). Sprinkle's Web site includes a flavor chart that shows on which days each flavor is served — mouth-watering description also included. One cupcake is priced at $3.25, and it is $36.00 for a dozen. The initial dent in the wallet may come as a shock, but satisfaction is above and beyond guaranteed. Sprinkles only serves cupcakes, and they serve them with style.
Each time I have gone to the Newport Beach location, there is always a line out the door. The good news is that the employers work fast and sufficient, and the waiting time is never long. A perk: Sprinkles has a small plate of cupcake-shaped and decorated dog treats on a small plate on top of the cash register. A downer: there is very limiting outdoor seating, but feel free to walk down a few shops and find seating outside of Peet's Coffee or venture to the ocean, conveniently right down the street!
A tip to the committed cupcake-lover: follow Sprinkles on Twitter and utilize the company's daily hint to win a free cupcake at any location. They are consistent with their updates, and whispering the secret word is the only requirement. So, next time your sweet tooth is aching, check your twitter and print out some directions (map link on sidebar). Hop on the 5, soak in the California sun during your thirty-minute cruise, and enjoy a delicious cupcake.