"You Again" conventional but still enjoyable
Acting talent redeems the predictable plot of "You Again," a comedy that delivers laughs for the whole family.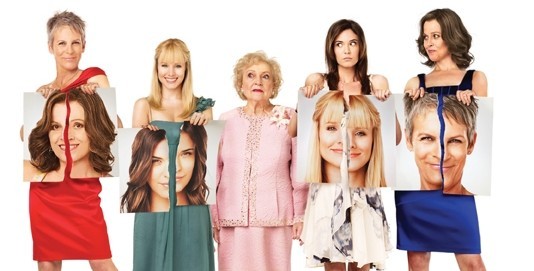 With headliners such as Jamie Lee Curtis, Kristen Bell, Sigourney Weaver and Betty White carrying the comedy "You Again," what's not to love? Very little.
"You Again" is based on a simple premise: crossing paths again with the one person who made high school miserable. When Marni (Kristen Bell) finds out her brother Will (James Wolk) is marrying her high school nemesis Joanna (Odette Yustman), she sets out to prevent the union and reveal the truth. Things get complicated when Joanna's aunt Ramona (Sigourney Weaver) has an ax to grind with her ex-best friend, Marni's mother Gail (Jamie Lee Curtis). The only problem is that the rest of the family members adore Joanna and Ramona. The claws come out as the four dueling women seek to outdo and undermine each other, setting the scene for hilarity.
Though comedies don't frequently master elaborate script invention, the underdeveloped portions in "You Again" were slightly distracting. Marni receives a huge promotion less than 15 minutes into the film, but her career is insignificant in the ensuing action. The astute observer will also notice Gail's silver Toyota Prius bears the license plate "GRN GAIL," implying an environmentalist bent, yet this idea is never fleshed out. Also, a scene where Marni watches her brother play basketball with Joanna, which should be crucial to Marni's understanding of their relationship, goes completely unmentioned.
In fact, overtly cliché sayings might be the most thoroughly expanded theme in the movie. A recap of her horrible high school experience rolls neatly into a motivational speech at Marni's public relations firm, proving that greatness is what one makes of their difficulties. The elder women impart deep wisdom on the younger ladies, reminding them – and the audience – that no one escapes high school unscathed and everyone deserves a second chance. The underlying purpose behind these and other platitudes, however, is unclear. Is "You Again" poking fun at the typical nature of comedies, or is it simply so entrenched in itself that it overdoses on clichés?
Despite its shortcomings, however, "You Again" will deliver in the laugh department. The Bell vs. Yustman and Curtis vs. Weaver feuds create the necessary humor to carry the movie through all 105 minutes. Most of the best moments are outlined in the trailer, but that does not make them any less amusing.
But the minor characters in this movie often steal the spotlight. Kyle Bornheimer gives a command performance as Joanna's creepy ex-boyfriend Tim. His poorly enunciated musical toast at the rehearsal dinner oozes with brilliantly played and incredibly uncomfortable awkwardness. Broadway great Kristin Chenoweth shines as the quirky wedding planner/dance instructor. Dwayne "The Rock" Johnson's unexpected cameo as a sky marshal who detains an aggressively confrontational Marni bursts with well-written wit. And one cannot forget Ben (Billy Unger), Marni's cheeky younger brother, who is awarded the best lines in the whole film. Keep an eye open for his dishwashing scene with Marni.
Betty White is one more fantastic reason to see this movie. Playing the endearing and ever-flirtatious Grandma Bunny, White reminds moviegoers why, even at age 88, she is still one of the funniest actresses in the business. Though not a major character, White pops in at all the right times, creating some of the movie's greatest comedic moments. Upon meeting Joanna's ex-boyfriend, Grandma Bunny willingly supplies her phone number before mentioning she's "also on Facebook and the Twitter." Let's just say seeing her swing through one shot on aerial acrobat ribbons is worth the price of admission.
Undoubtedly, there's nothing earth-shattering about this movie. Except for a hilarious, last minute plot twist involving, of course, Betty White, most of the action is predictable. Then again, what "rom-com" can boast otherwise? But with the big-name stars and witty moments, and despite the conventional script, "You Again" is undeniably enjoyable, especially with a family-friendly PG rating. Just don't bet on wanting to see it again and again.