DBC says Jesus Mural stays [Updated]
After years of discussion and debate, President Barry Corey announced in a special meeting Wednesday afternoon in Sutherland Auditorium that the Jesus Mural will be kept and restored.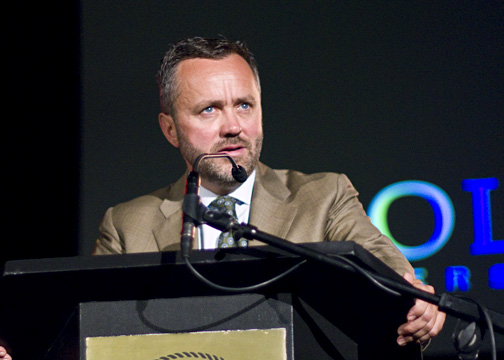 Sutherland auditorium was abuzz with conversation, speculation and thinly veiled tension Wednesday afternoon as students, faculty and other members of the Biola community gathered to hear President Barry Corey's announcement about the future for the Jesus mural.
Corey, who received a proposal to restore the controversial mural in the spring of 2008, had deferred the decision admitting he did not feel prepared to make it and instead inaugurated what he called a "season of listening." A week-long discussion series in chapel this past spring as well as conversations in classrooms and dorm rooms culminated in the announcement that "The Word" will stay on the side of Bardwell Hall and be restored to its original condition.
"As I have thought about this mural, I have not been convinced that removing well-intentioned – though provocative – objects of art from a campus like Biola is the answer," Corey said.
Instead, Corey is proposing that the mural be refurbished including the planting of an olive tree, part of the original design, and the addition of a marker at the base of the mural explaining artist Kent Twitchell's intent. Other changes include incorporating the Jesus mural discussion into campus tours for incoming students and encouraging faculty to teach to the issue of racial sensitivity.
Corey speaks to underlying issues
In his speech, Corey emphasized listening as well as talking, and highlighted the process as much as the decision he eventually made.
"Coming to a decision about restoring or removing the mural was a small part of the answer," he said. "Before an answer, we needed to have a conversation."
"What I desire – and I believe we all desire – is simply to know the heart of God and make decisions in that spirit," he said.
Corey's announcement about the mural was met with respectful silence from the audience, in line with his emphasis that there are no winners and losers in this situation.
Responders emphasize this is just the beginning
A handful of people shared their prepared responses with the audience, including AS President Lizzie Neely, Provost David Nystrom and art professor Jon Anderson. They each called Biola to ongoing conversation and action.
"The majority response for this decision might be under-sensitivity," Neely said. "…maybe you won't understand." But she challenged the Biola community to move closer to each other through it all.
"The mural will still cause grief, confusion, and division unless our attitudes toward it change," she said.
Alain Joseph Datcher, AS multicultural relations director, powerfully shared his heart with the community. "This member of the body feels wounded," he said. "Will you choose to hurt with me?"
"Everyone has a choice in this matter…I ask Biola in its entirety. Will you choose to come? Will you choose to care? And will you choose reconciliation?"
"This is not an assent of who we have been; this is not an affirmation of what we have done," Professor Jamie Campbell declared. "This is a challenge. This is a reminder that we must be different as a community."
Audience reaction
"I definitely thought it was very impacting," said Rebecca Lusk, a senior psychology major. "I don't think it was an end at all, it was more of a beginning and moved a lot of people in a new direction."
Lusk said she was in favor of keeping the mural up, but acknowledged the tension and hurt some students express.
"I'm white, you know, so I've never felt how it is to be marginalized," she said. "I grew up in Orange County, so I didn't face a lot of racism. Before this came up, I had never thought of it."
Senior communication studies major Tiffany Chan said she came in to the session fairly neutral on the debate and with no expectations.
"They really portrayed the way we should handle the whole mural thing," she said. "I didn't see how it was a problem but now I see it as a problem that needs to be talked out." Chan said she is thankful the mural has created conversation among students and is being addressed so that they can reconcile to one another.
Ben Shin, a Talbot professor, said he has been praying for President Corey's decision as well as for the community response. "My prayer is that we would choose as a community to put in the hard work to make Biola a better place," he said, noting that he considers keeping the mural the "harder decision."
Corey commissions new mural and paints broad vision for Biola's future
Corey's announcement, while intended to be a definitive answer to the immediate future for the Jesus mural, also functioned as a door to further conversation about racial diversity and the role of art on Biola's campus. Corey outlined several additional objectives including commissioning a new mural on the face of a prominent Biola building and creating a Mosaic Cultural Center somewhere on campus.
A task force will be formed this fall to research a subject for the mural and work towards a start date sometime in 2011. Corey hopes that the new projects spark a diversity of artistic expression reflecting the fullness of the Biola community.
"My decisions are not chapter closers," Corey said. "…Even with my decisions the conversation should not end."