Celtics race for a ring in the hands of young point guard Rajon Rondo
PRO ATHLETE PICK: Rajon Rondo is an emerging star point guard for the Celtics.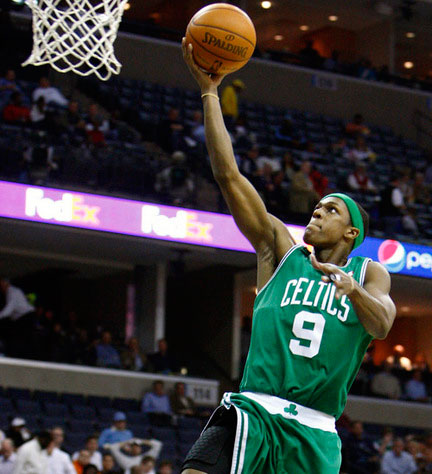 With the start of the NBA Eastern Conference Finals, the Celtics look to make another appearance in the NBA Finals, led not only by the legendary "Big 3," but also by their emerging star point guard, Rajon Rondo.
At an early age, Rondo took a liking to football, but his mother steered him towards playing basketball, fearing his slender build would put him at risk for serious injuries in such a rough sport. He would later go on to play high school basketball for Coach Doug Bibby at Eastern High School in Louisville, Kentucky, where he averaged 28 points and eight assists per game. Rondo transferred to the storied Oak Hill Academy for his senior year, where he helped lead his team to a perfect season in 2003-2004.
Rondo went on to play for the Kentucky Wildcats, averaging eight points, four assists and three steals per game in his freshman year and breaking the record for steals in one season by a Kentucky player with 87. After his sophomore year, he declared for the NBA draft. He was picked by the Phoenix Suns with the 21st selection in the draft, but was quickly traded to the Boston Celtics.
During his rookie season, he had to split his playing time with two other young guards, Sebastian Telfair and Delonte West. After a great game against the Raptors, Rondo's playing time increased dramatically.
The next season, Telfair and West parted ways with the Celtics, giving Rondo the starting position. Because of the Celtics great offseason acquisitions, Rondo was able to play alongside Ray Allen and Kevin Garnett and earn his first championship ring, as the Celtics completed an impressive playoff run.
This postseason, the Celtics are currently winning the series against the Magic in the Eastern Conference Finals, one game to zero, as Rondo looks to get his second championship ring in three seasons.