Illusionist performs at Biola, Thoennes loses his head
André Kole, who incorporates the Gospel message into his performances, performed Saturday in Sutherland Auditorium for a California School Project fundraiser.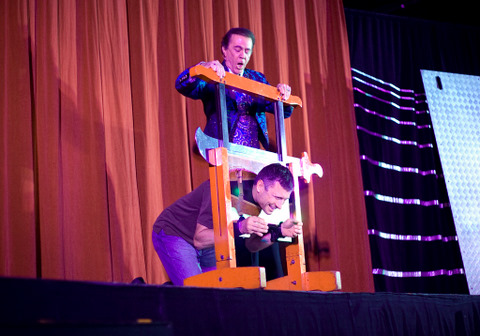 Illusionist André Kole brought the Gospel alive with magic Friday night in Sutherland Auditorium at California School Project's fundraiser. All proceeds of the show went to CSP and were matched by an anonymous donor.
After "chopping off" Biola professor Erik Thoennes' head, making assistants disappear and walking on water, the Christian illusionist used a simple illustration of a light bulb placed in a box and disappearing to represent the body of Christ disappearing from the tomb. Christ's sacrifice and resurrection allowed the Holy Spirit to enter believers, Kole said as the light bulb suddenly appeared lit up in a lamp representing the believer.
Kole gave his own testimony and defended Jesus's miracles from a magician's perspective. After years as an agnostic researching Christ's life, Kole said he realized he needed a personal relationship with God because only the Spirit could satisfy his need for purpose and satisfaction. Since he committed his life to Christ, Kole has incorporated his faith with his shows and written books exposing false claims of supernatural powers.
"Extraordinary claims demand extraordinary evidence," Kole said. "The greatest evidence for Christianity is Jesus Christ. There's one subject I know a great deal about, and that's magic. You have to visualize Jesus, [had he been a magician,] with three diesel trucks behind him [carrying] thousands of dollars, tons of equipment."
Kole said his staff knows how he does his illusions, but would not be willing to die for him or his tricks. Jesus, however, had 12 disciples who knew the truth, believed in Christ and died for him.
Kole has shared his beliefs through magic at numerous high school performances organized by CSP.
CSP, which trains high school students leading Christian clubs to reach students for Christ, aims to expose as many students to the Gospel before high school graduation as possible. Senior Michael Towson, director of Biola's CSP chapter, said CSP uses every available means to reach students including guest speakers, rap artists, dancers and, now, an illusionist.
"The biggest benefit is for the leaders," Towson said. "To have someone like that come to your school, in terms of level of quality, it's like having Switchfoot. Students are blown away that someone like this would come to their campus. [One girl] got to see nine of her friends make decisions [after] praying for these people forever. That was the step that it took — something as simple as that."
Towson said he hoped Biola students would get just as much out of Kole's performance.
"I'm hoping Biola students will be challenged by it," Towson said. "For mature believers to develop a heart for reaching out. For others, I'm praying that the Gospel message given will spark something."
Freshman Matt Richert said he admired Kole's testimony.
"It's great that he was willing to stand up [for Christianity]," Richert said. "And the show was amazing. It's amazing to think we're deceived. It all looks so natural."
"I had a blast," said junior Aaron Poladian, whom Kole had check rope props to make sure they weren't trick ropes. "I saw nothing sketchy. I didn't have any blind eyes."
Freshman Evan Warwick had more luck with discovering how Kole performed his illusions after Kole's assistant blindfolded him and hid him, along with a tied up Kole, with a curtain that completely surrounded him. During the "magic seance," Kole's assistant "called upon the spirits" to show themselves, and the "spirits" threw several props set inside the curtain out of the curtain, including Warwick's shoes.
Warwick said he knew how Kole did the trick, but refused to reveal any more than the fact that he was blindfolded the entire time and that Kole whispered to him telling him not to reveal the secret of the trick.
"It was great," Warwick said. "My goal was to get up on the stage. I was just trying to enjoy it."