Episode nine of 'The Pacific' shows ugly, dehumanizing aspect of war
Soldiers combat racism and hate as the brutal war breaks down the characters' virtuous resolve.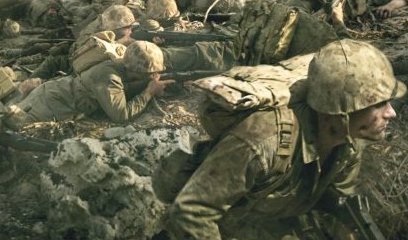 After opening with a harsh montage compiled from footage of the assault on Okinawa, the ninth part of HBO's "The Pacific" brings viewers the hardest hitting episode seen yet.
Tensions are still high, and part nine does an excellent job striving to communicate the tension that exists, especially between the Americans and Japanese. In a prime example of this tension, a soldier notes that the people the troops are passing are not Japanese; they're Okinawans. Another soldier pipes up and ignorantly says, "They look like Japanese."
Shortly after, a few Japanese prisoners of war are lined up on the side of the road, and a Marine spits on one of them as the soldiers march past the sitting prisoners. In indignation, the Japanese soldier jumps to his feet, shouting in Japanese. He is instantly confronted with tense American Marines more than willing to shoot him. Tempers flare up instantly as the intelligence officer demands that the men respect the prisoner's rights granted under the Geneva Convention. The rain, coupled with the grim reality of the brutal war they were fighting, keep tensions high and tempers short.
It is interesting, but saddening, to note the change in Sledge's character. When he was first transferred to the mortar division, his friend Snafu was extremely racist and desensitized due to the war. When he arrived, Sledge was full of excitement and optimism. As the war progressed, Sledge became more and more like Snafu, and this episode really presents his change in character. He's not only racist against Japanese soldiers but is also brutal and uncaring. This is probably one of the most difficult things to watch in the show; the transformation of a man into an uncaring, unfeeling monster.
The dehumanization of a man is a terrible thing to watch.
The episode is not entirely depressing, but visually it is, without a doubt, the most brutal episode viewers have been presented with. Spielberg and Hanks pull no punches, bringing raw, gritty, bloody warfare, leaving very little to the imagination in the visual arena. Viewers are advised to be ready for an emotionally conflicting episode complete with a new side of a soldier's thought process, seen through the transformation of Sledge.
_Author's note: I would like to issue a short apology for a few errors in rank, awards and branch in past articles that have been brought to my attention. My intentions were pure, however my lack of personal experience limits my ability to comprehend the world of the Armed Forces. No disrespect was intended. _