'Gotta Go and Get a Job'
COREY'S CORNER: The president relates to soon-to-be-grads with a song.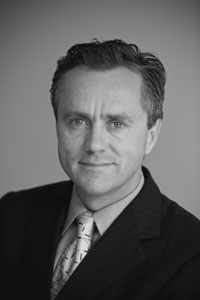 As the academic year winds down, many of you are likely dealing with some anxiety as deadlines loom for papers and projects. If you aren't already, soon you will spend late night study sessions trying to cram as much information into your short-term memory as possible for your final exams. Paula and I look forward to serving up some breakfast for you at Study Break on May 23.
Those of you who are graduating also have the anxiety of the unknown: wondering what you are going to do this summer and beyond. I remember being in your shoes. I lived at home for a while, sorting things out, taking graduate classes, working in a delicatessen, trying to find some direction for the next steps on my journey, and during this reflective season I wrote a poem. It's autobiographical – sort of. I took some liberties with the story in order to make things rhyme!
Here goes:
Gotta Go and Get a Job
Miss Lucas told me in second grade that in ten years I'd graduate.
I turned and said to my friend Bob, "All this school just to get a job?"
Six years later in junior high, Mr. Towsky said, "You're a pretty good guy.
When you graduate from Valley Tech, what're you going to do for your paycheck?"
I thought, "Heck, that's coming up in a few years. I'll make a decision before my peers."
I prayed and thought, "A doctor's what I'm gonna be."
Changed my mind next year in biology.
Lost the calling when I got a C.
Well, 1980 came the big year, got a cap and gown but no career.
Hello college, put the job on hold, four more years, I won't be too old.
Had art appreciation with Dr. Gable, thought, "This won't put any food on the table."
So I majored in psych instead of lit, figured it's good, it's what Bob Newhart did.
But Freud and Erickson may have been adept, but both of them, they died in debt,

And I would too at this slow pace. Got a college loan and an empty briefcase.

While I got the B.A. which I think I like, but what do you do with a degree in psych?
With no job in sight and books in my head, I went to graduate school instead.
Mom said, "You can't get a job on your good looks." So I hid two more years behind my books.

While finally it came my third cap and gown, but the job was nowhere to be found.
So I shelved my thesis, shunned the M.A. and went and got a job at Chick Fil-A.
Though you may not know what awaits you after you turn in that final project or exam, I want you to take comfort in knowing that God has a plan for your life. In the midst of what may be an anxious season, rejoice with your friends and enjoy your time together at Biola University. I have been encouraged by the incredible achievements of Biola students this year. Well done! God bless you this summer and see you in the fall!