Tens of thousands fill streets of L.A. to demand immigration reform
Thousands marched the streets of Downtown Los Angeles Saturday to protest immigration reform, especially in light of Arizona's new, stricter laws.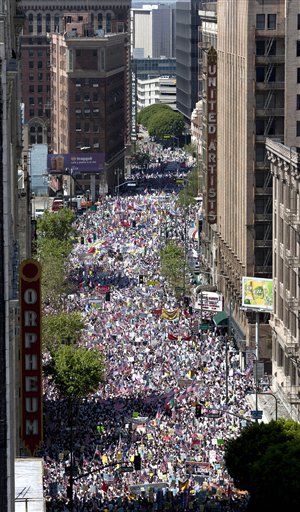 LOS ANGELES (AP) — Singer Gloria Estefan kicked off a massive march through the streets of downtown Los Angeles as demonstrators galvanized in opposition to Arizona's tough law against illegal immigration demanded an overhaul of immigration laws.
"We're good people," the Cuban-born singer said aboard flatbed truck. "We've given a lot to this country. This country has given a lot to us."
Cardinal Roger Mahony stood on the truck and joined the crowd in chanting, "Si, se puede," or "Yes, we can," in Spanish. Streets and sidewalks were packed with tens of thousands of people as horns blared.
Organizers handed out T-shirts that read, "Legalize Arizona" and "Boycott Arizona." Marchers waved American flags, along with many from other countries, including Mexico, the Philippines, Nicaragua and Guatemala.
David Cho, an illegal immigrant from Korea and a student at University of California, Los Angeles, drew loud cheers when he said he dreamed of joining the Air Force and becoming a U.S. senator.
"I feel like I'm living inside an invisible prison cell," he said.
Many came to protest Arizona's new law requiring local and state law enforcement officers to question people about their immigration status if there's reason to suspect they're in the country illegally.
"If they see someone with black hair and Latino face, they're going to stop you without any reason and ask for your papers," said Eleazar Cruz, 37, a Los Angeles bartender from Mexico who paid a smuggler $300 to cross the border illegally in San Diego in 1985 and later became a legal resident. "It's crazy."
Cruz participated in a massive May 1 pro-immigration march in 2006 — upset at the time by a proposed federal crackdown on illegal immigration — but was too busy to attend the annual marches since then. The Arizona law brought him back.
"We're angry," he said.
Oswaldo Osorio, an illegal immigrant from Mexico who paid his smuggler $150 to cross the border in San Diego 18 years ago, turned out with his wife, also in the U.S. illegally, and their two U.S.-born daughters. All four waved American flags.
Osorio, 38, said his family wanted to make a statement for giving immigrants legal status and protesting Arizona's law.
Benjamin Hernandez, 44, attended his first political rally since coming to the United States illegally 10 years ago. He lived in Arizona for two years after paying a smuggler $1,200 to walk across the desert, then moved to Ventura to join his father, where he works construction jobs.
Hernandez said his nephews in Arizona are upset by the law but won't leave the state.
"I won't go visit them," he said. "They can come visit me. After working so hard, why would I want to lose everything?"